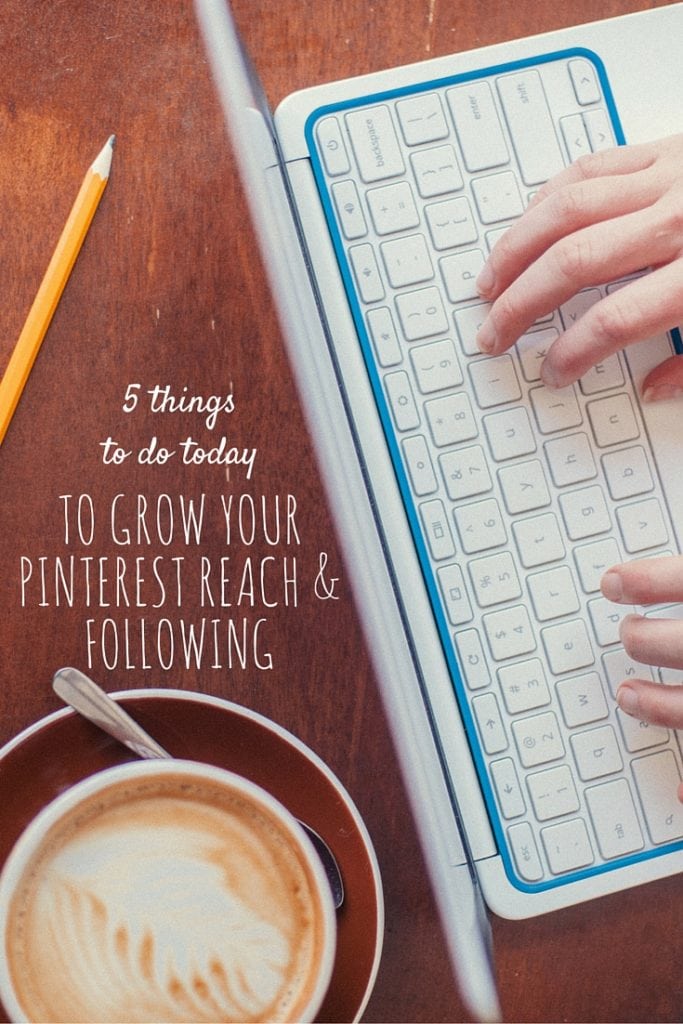 Pinterest is a wonderful social media! It is the perfect place to search for ideas for your bedroom, stuffed bell pepper recipes, new outfits to wear to work, learn how to take better photos, and find anything else you want to be inspired by. So many of us turn to Pinterest for inspiration, but we don't take full advantage of what it can do for our blogs and businesses.
You may have seen this infographic on social media in 2014. Yes, Pinterest has the smallest amount of users BUT it is a place for discovery, has a large female audience, and caters to a lot of things that we as bloggers blog about. That in itself creates a lot of opportunity.
Reading through this interview on The Well with some of the largest blogs in the business and listening to others ( Haley at The Tiny Twig, Elsie at A Beautiful Mess) talk about growth, Pinterest always comes up as one of the largest ways to draw traffic to your site.
I bet you already have it and already use it. That is why these next steps are something you can do TODAY to grow your reach without too much extra time (because we already know none of us have time to do it all).
INCLUDE PHOTOS IN YOUR POSTS
Without a picture in your post, your readers have nothing to pin to Pinterest. This is huge because Pinterest is all about discovery, and if you have pictures that are pinned and repinned, then new people can find you! It is just that simple.Remember though, not all pictures are created equal. As pinners we are attracted to a beautiful photo that accurately reflects the post. I always pin photos that I love because I want to have a way to go back to the post later and I want to share it with others. I only pin things that are attractive because my attention is drawn to them – those are the things that inspire me.
Work on including on at least one image in your posts that you consider to be pinnable. We all have different measures of what makes a pinnable picture. Most likely if you would pin it, so will your readers.
TIPS
Canva is a great tool for creating infographics and photos with text for free.
Try to use your own photos to avoid copyright issues.
Use Death to Stock Photgraphy or other free stock photo for posts if you do not want to use your own images.
Notice the pictures you pin on Pinterest and from other websites. Write down the things in those pictures you are attracted to and start trying to incorporate those things into your posts photos.
HAVE A PIN IT BUTTON
If you are constantly posting photos in each post, you are off to a great start! Now you need to make sure your readers can easily post a photo to Pinterest. Include a Pin It button on your photos or at the bottom of your posts. You can see that I have a Pin It button at the bottom of every post on Oak + Oats to make it easy for my readers to Pin if they wish.Don't stress out if you do not feel tech savvy enough to add this button – Pinterest has a step by step guide to add a Pin It button to your website.
PIN POSTS, USE HASHTAGS, & TAG PEOPLE
Pinning your own photos on Pinterest is a great way to promote your posts. I recommend pinning them in boards that fit with the content of the post- not just a general "My Blog" board. I pin recipes to my food boards, DIYs to my crafting boards, and blog advice to my blogging board!When you pin on Pinterest, those photos will come up in the feed of those who follow you but you can expand your reach by using hashtags! Yes, you can use hashtags everywhere these days. Tag brands that are in the photo, use hashtags, and give a detailed explanation of the post. This helps your pin come up on Pinterest searches. It also shows brands that you posted a picture of their product. Most brands have their own Pinterest and love to repin photos they love with their products in them. This gets your photo in front of new eyes (this is where growth happens. YAY.)
INCLUDE WIDGETS/ LINK TO YOUR PINTEREST
Make sure that your Blog is linked to your Pinterest and your Pinterest is linked to your blog. That way new readers can follow you on social media (including Pinterest) and people who follow you on Pinterest can find your blog. This one is simple enough but makes a big difference. If I come across a blog that I enjoy, I tend to follow them on their social medias. If they have some not easily listed on their blog, I don't go looking for them. By not having having your Pinterest in your social media line up, you are missing out on the opportunity.Widgets are also a great way to interact with people while they are on your blog. They can actually see what kind of pins you pin before they click over to follow you. If they like what they see, they will click, and follow! There are plenty of plug-ins that allow for this or you can get the html by looking at your Pinterest settings and clicking on "Make a Widget"
ENGAGE & TRACK
If you are a blog/ business, I highly recommend switching over to the business account. It is free and only comes with more opportunities to take advantage of the Pinterest platform. With a business account, you can see your analytics. I love this feature because I can see who is reading, what people are liking, and watch what types of pins do best with my audience. For example, Blog posts, Style Posts, and Doctor Who posts are some of my most repinned and popular pins! In the last 30 days, these were some of my most repinned pins: Email Tips, Prayers for my Husband, and a Harry Potter cake. Knowing what your readers like and repin will help you as you brainstorm future content. Maybe you had no idea how much people enjoyed some of your nerdier topics (like Harry Potter and Doctor Who) so you started sharing more in future posts. This is a great way to measure actual engagement and Pinterest really does all the work for you.
Also, don't forget to engage. Sometimes we spend so much time focusing on promoting our own content, that we don't engage with the people we are trying to reach. Pin posts you like, heart photos while you are browsing Pinterest, comment on things you like, and create Pinterest boards filled with all kinds of inspiration (not just your blog.)
BONUS
I highly encourage you to apply for RICH PINS. Jenna of A Savory Feast taught me this one! If you link here with you blog posts, Pinterest may approve your site for Rich Pins!
Start group boards and invite people to join them! The more pinners, the more followers. Your content gets passed around and in front of new eyes!
Start doing these things today and you will start to notice Pinterest working for you!
What do you love about Pinterest? Have you found it to be helpful to your blog/ buisness? Do we already follow each other on Pinterest? – Find me here and leave your link in the comments!