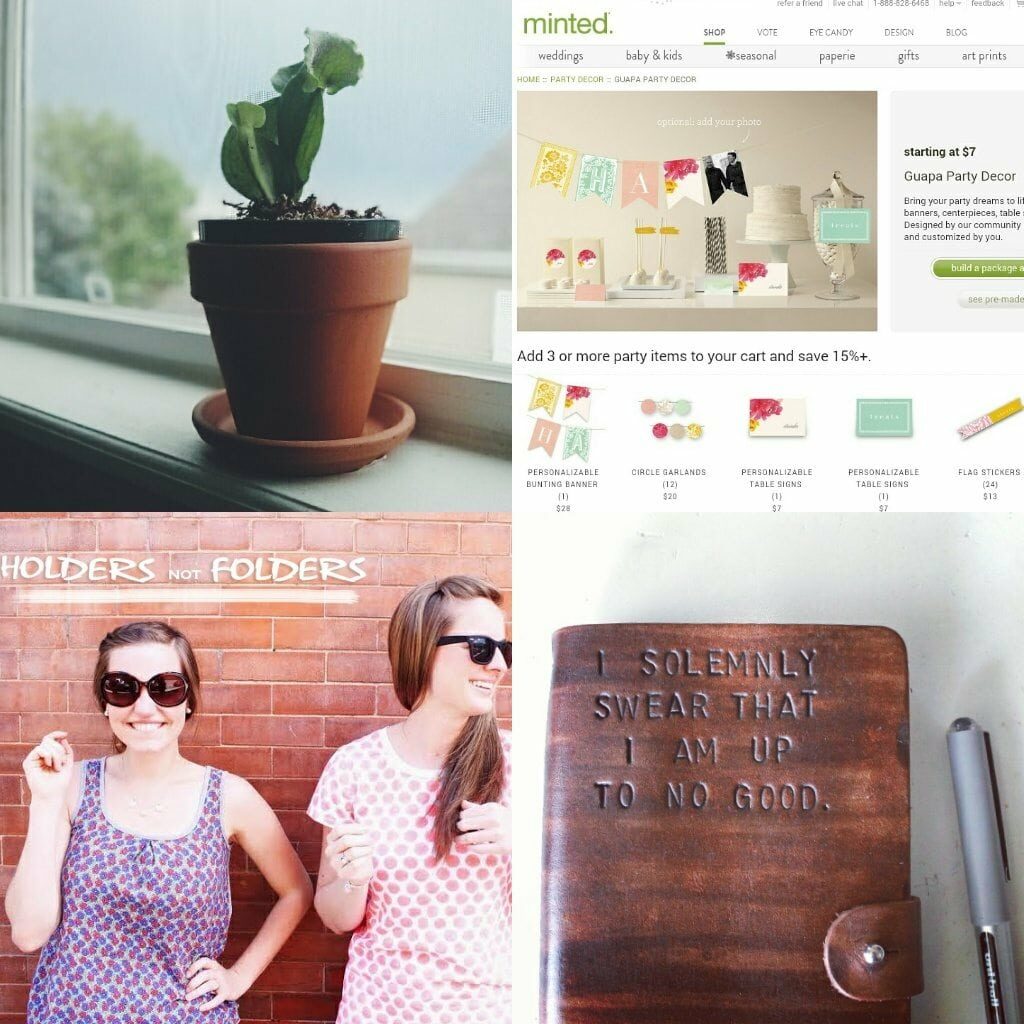 SNAPSHOTS:

1. Carnivorous plants are slightly terrifying / mostly awesome! We picked up one over the weekend and I am hoping he goes to town on the annoying gnats we get in the house. Sometimes I catch myself starting at him and dreaming of dinosaurs – because plants like this walked right out of Jurassic Park #ammiright?!!?
2. Bridal Shower Planning!! Okay, y'all get ready because my sister is coming home in July and we are throwing her a bridal shower! I found some of THE BEST decorations, invitations, and party ware on Minted. I just discovered their party packages and I was surprised by how doable that was for my budget (also, I am all about one stop shopping). You will see more goodies around the blog because I am obsessed with the matching invites we picked out and wedding stuff is really just my favorite! If you have any parties to plan this summer (cough, cough – baby shower, 4th of July party, engagement, bridal, bachelorette, back to school, birthday, just for fun) you can get $25 off your first purchase when you use this link!
3. Holders Not Folders. Meg and I love instagram! We love hearting pictures, we love following new people, we love seeing beautiful snaps of the everyday, and we love hastags! Join us as we hashtag #holdersnotfolders for the summer! We have different themes each week because we want to see your creativity shine through and help you look for the beautiful in the everyday! This week the theme is "MAGICAL" and we will be sharing our favorite instagram shots with the hashtag (#holdersnotfolders) every Saturday!
4. Harry Potter/ Disney Trip again you say? Yes! How can we not go back to Harry Potter World with the addition of Diagon Alley?!? In December we are planning at trip back to Orlando! Eeeps. This is big news as we are bringing friends, staying at the Disney Resort, and saving time & money by booking with a travel agent! Seriously, I just realized that travel agents get paid by the resorts and not the travelers AND the have access to different discounts. From now on, I am going to travel that way! If you need a travel agent to help plan your summer trip email Alex Smith at Alex@thetravelagencyinc.com . She will hook you up – she is awesome! Oh, also there is a Harry Potter influenced giveaway right now!
YOU MAY HAVE MISSED:
DIY Hand Towel Holder
Mocs, Stripes, and My Favorite Color
Mayberry Monster Cookies
Harry Potter Journal & Giveaway
#holdersnotfolders | An Instagram Series 
GOOD READS:
To the Girl Who's Trying
Love this Backyard Picnic party idea for summertime!
Got a baby shower coming up?