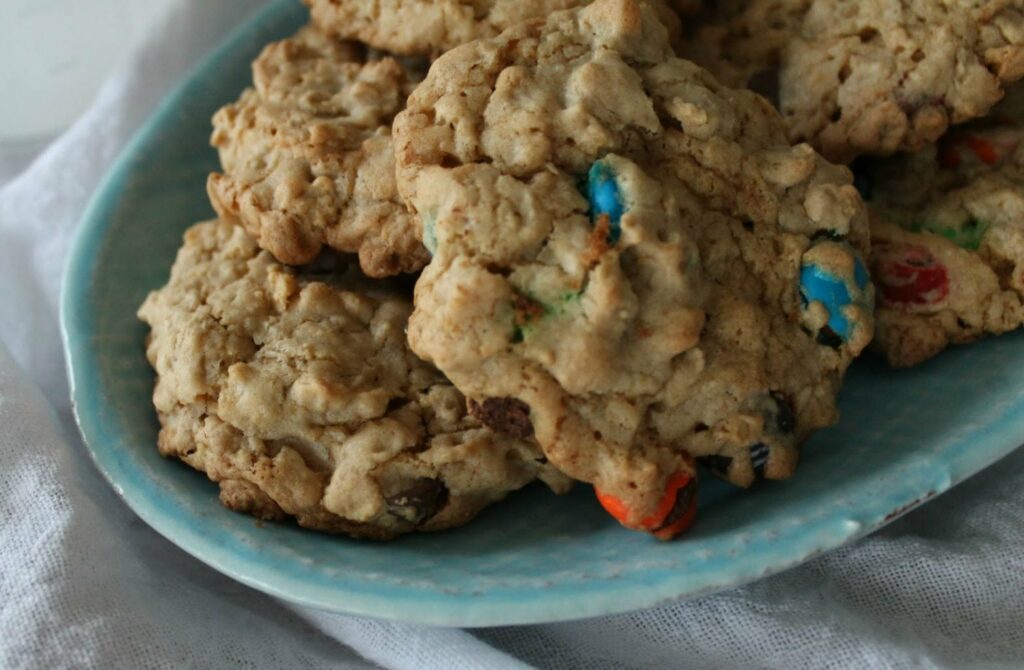 I made some Monster Cookies the other day and they were just so delicious that I had to share them with you all! I hesitate to call them Monster Cookies because some people have really strong opinions about what Monster Cookies are and are not! I still went with it because this is what I always call these cookies and I didn't want to think of a new name for them #toomuchcreativity
I think the beauty of a Monster Cookie is that they are different every time! Each family has there own Monster Cookie rules. Think of it like house rules – in my house we always read the rule book to make sure we are playing correctly, have the other person look up a word in the dictionary for scrabble to check for spelling, send the robber back to the dessert to pick any card, and make "um" count as a word in a competitive game of Salad Bowl. Monster Cookies are the same way, you have a general idea of what you are going to get but each house does a little something different.
These cookies are sans nuts and fruits. I think craisins might actually go pretty well with the mixture but I just cannot get too crazy with the ingredients. Plus, I love nuts by themselves and not in sweets! Please feel free to add them to your Monster Cookies though if you want! Let's talk about the beauty of baking – In Shauna's book Bread & Wine she talks about the 3 rule for recipes. You make a dish three times – the first following the recipe, the second according to your tastes (ex. add Nuts, use more Vanilla, replace M&Ms with heath bar chunks), and the third by heart (this is when it becomes your own!) Recipies are the starting place for your home cooking! You know your freinds and family best and have the freedom to craft each recipe to fit the needs of those around you best! How neat is that?!
So without further adieu, here are the Mayberry Style Monster Cookies! Enjoy!
WHAT YOU NEED:
1 Cup Brown Sugar
3/4 Cup White Sugar
2 large eggs
1 Tbs Vanilla
1 1/2 sticks of salted butter
1/2 Cup Applesauce (unsweetened!!)
1 Tbs Baking Powder
1 tsp Sea Salt
2 Cups Flour
3 Cups Oats
1 Cup M&Ms
1 Cup Chocolate chips
1/2 Cup Peanut Butter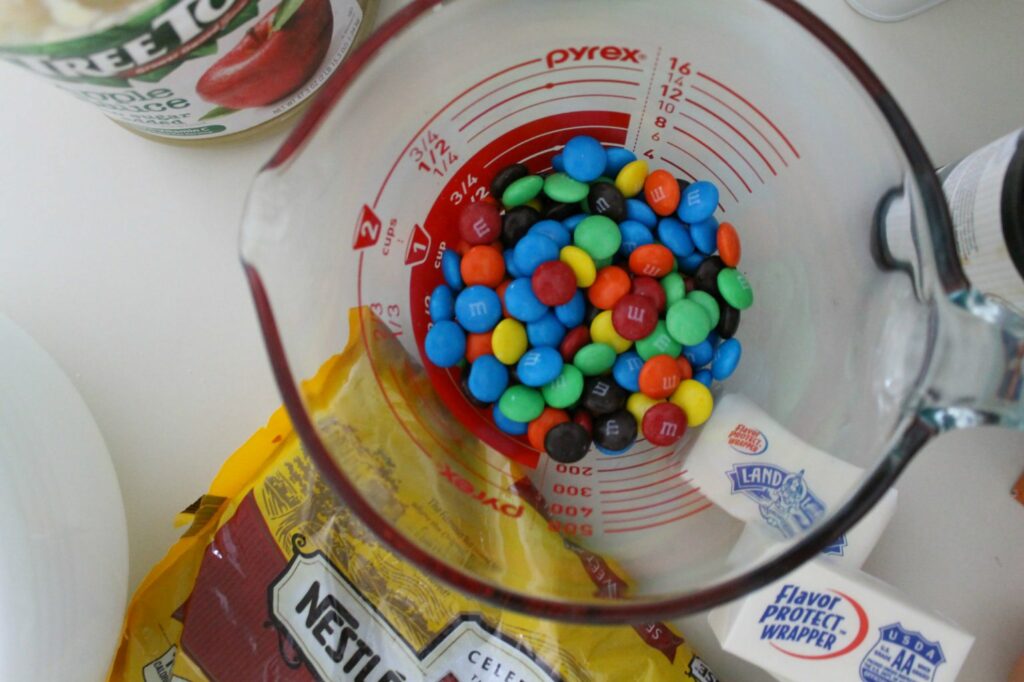 HOW TO:
1. Preheat oven to 375 degrees
2. Beat Sugars and Butter in a bowl. I melt my butter a bit in the microwave before because I like it really soft!
3. Add Vanilla and Eggs. Beat until the batter looks "fluffy"
4. Switch to a spoon and mix in Flour, Sea Salt, and Baking Soda.
5. Fold in Oats, M&Ms, Chocolate Chips, and Peanut Butter
6. Roll into 1 inch balls and place on ungreased cookie sheet. If the dough feels too sticky, pop it in the fridge for 10 minutes and then try to roll them!
7. Bake for 12 minutes or until a bit golden brown.
8. Enjoy!
BONUS: If you have left over dough, roll into balls and place in tupperware using wax paper between layers. Freeze them for later use! (Bruce likes them best when they are frozen and then cooked. so there is that!)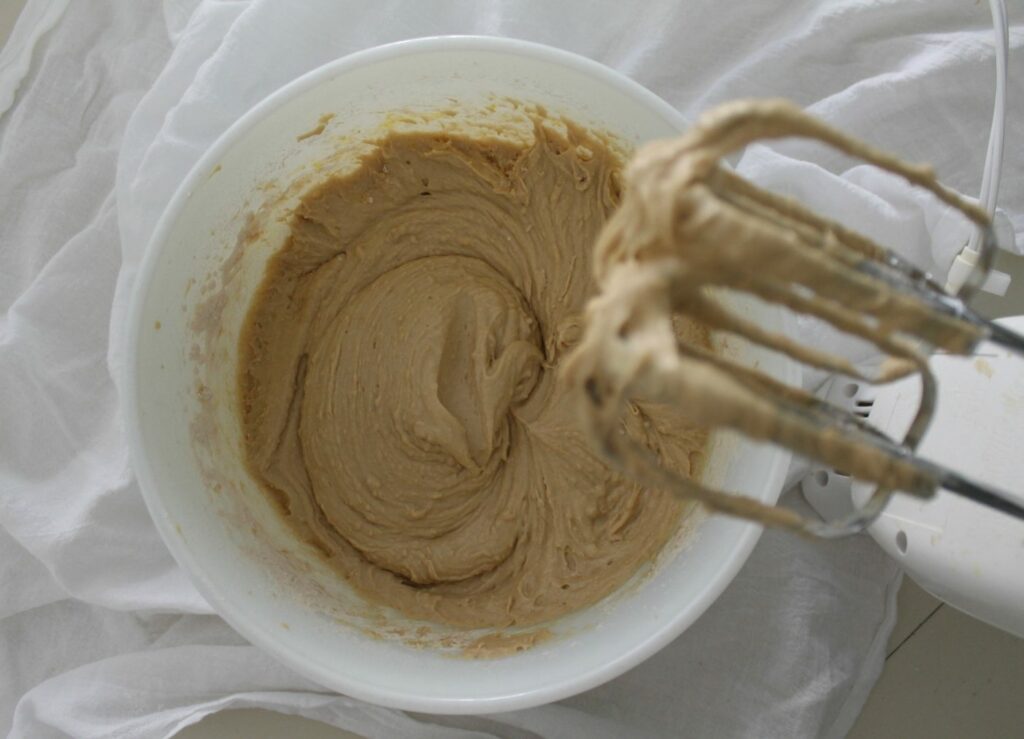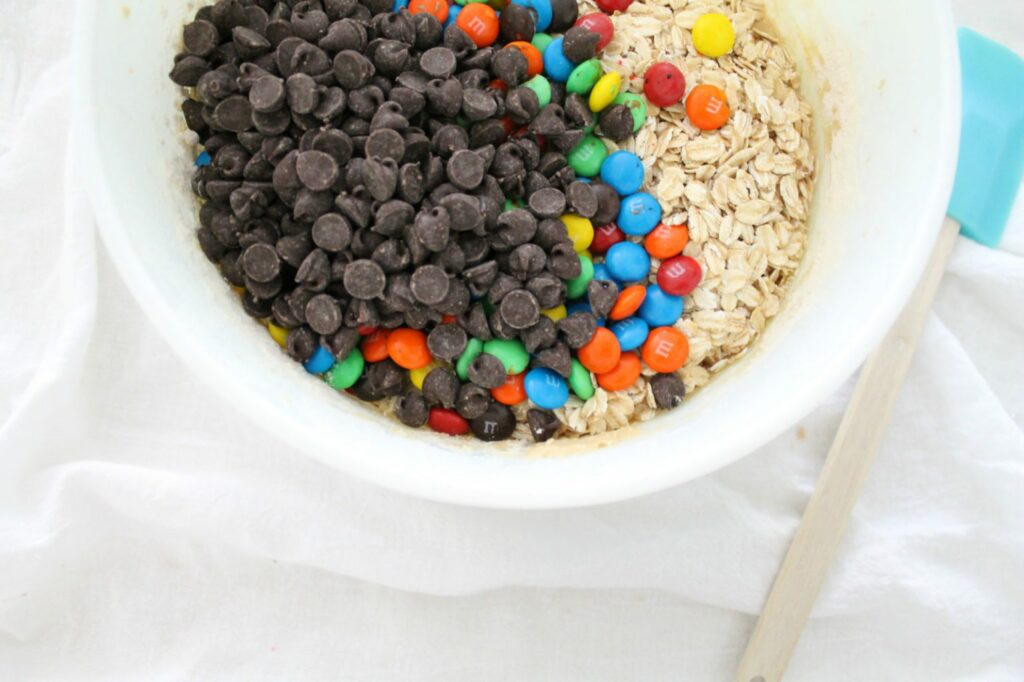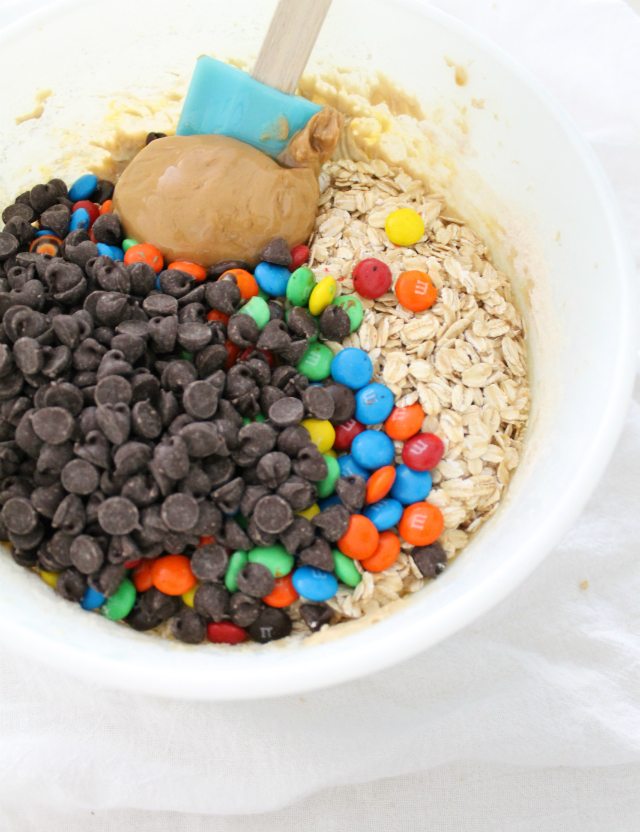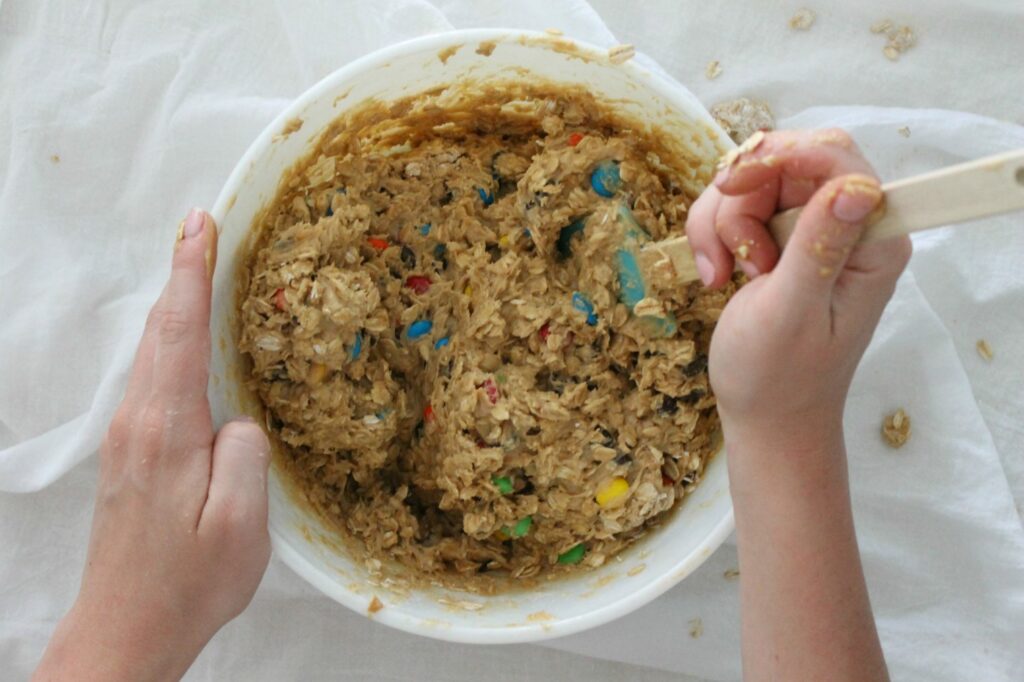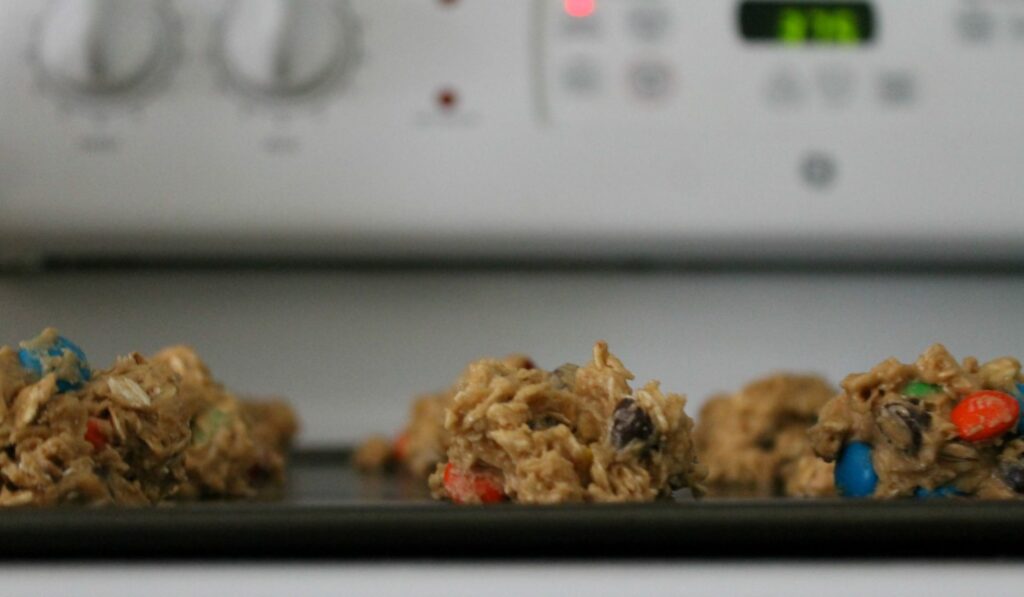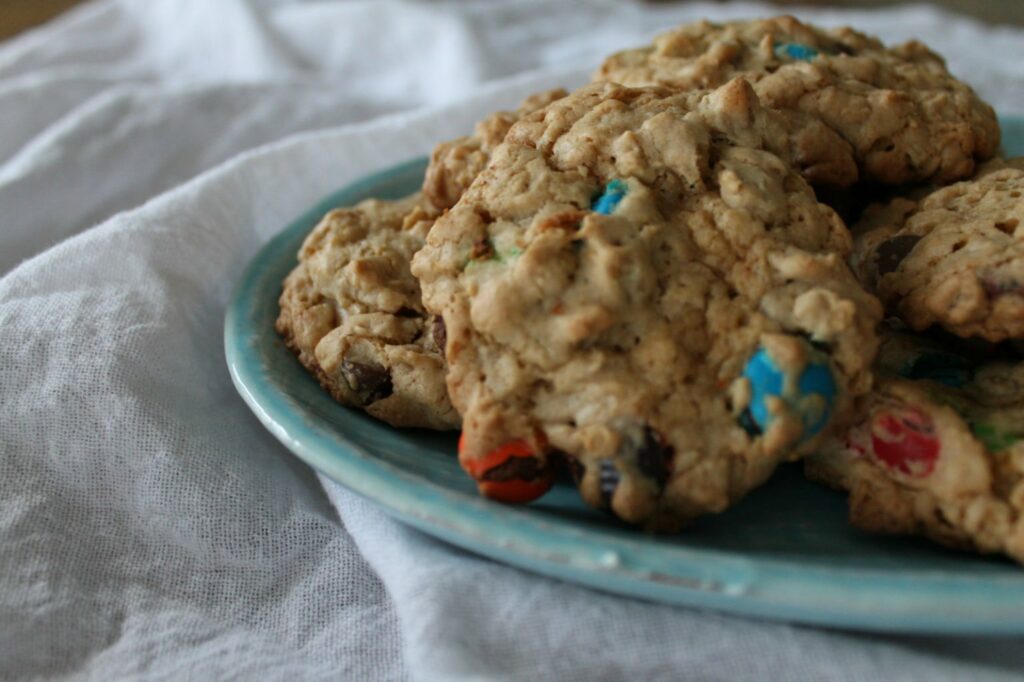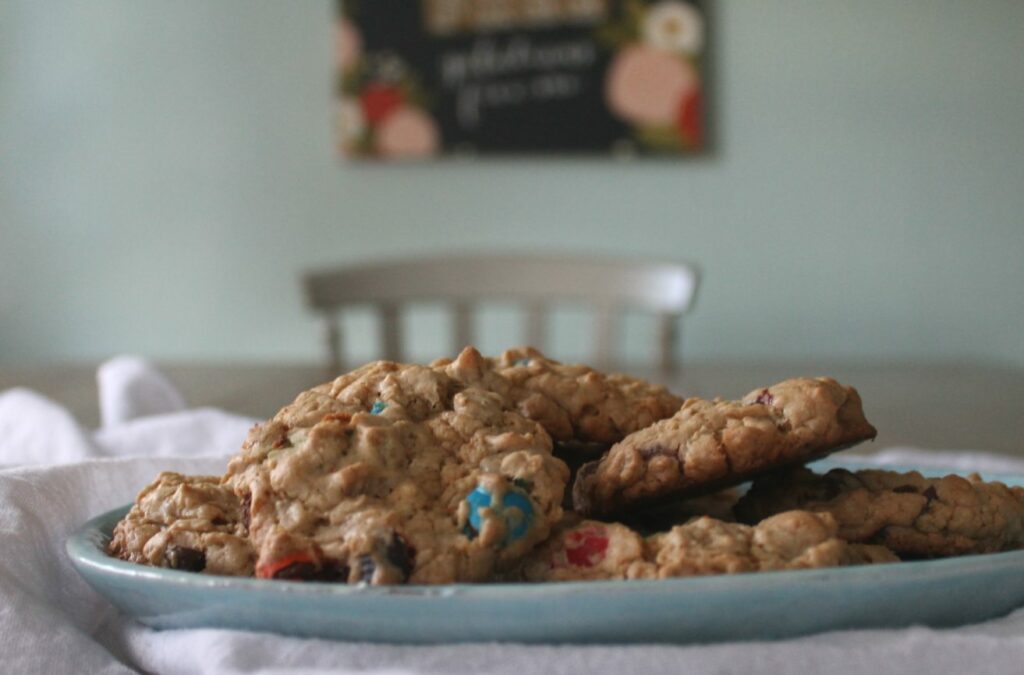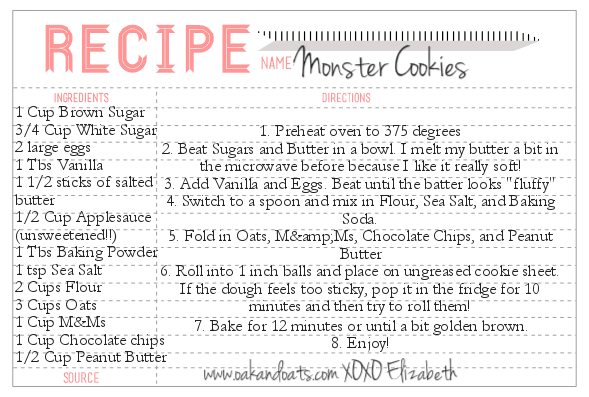 Click Here for the Printable Recipe. Templet thanks to LoveSome
WHAT ARE YOUR MONSTER COOKIE FAMILY RULES?