with summer just around the corner, i thought bringing a little summer time into dinner would be delicious. i do not know where you live but here in Colorado pineapples have been super great prices! we got one in our last bountiful basket so i cut it up and put it in a bowl. we can easily eat a bowl of pineapple just by itself but then i though how much i love grilled pineapple and so i made some salmon to go with it!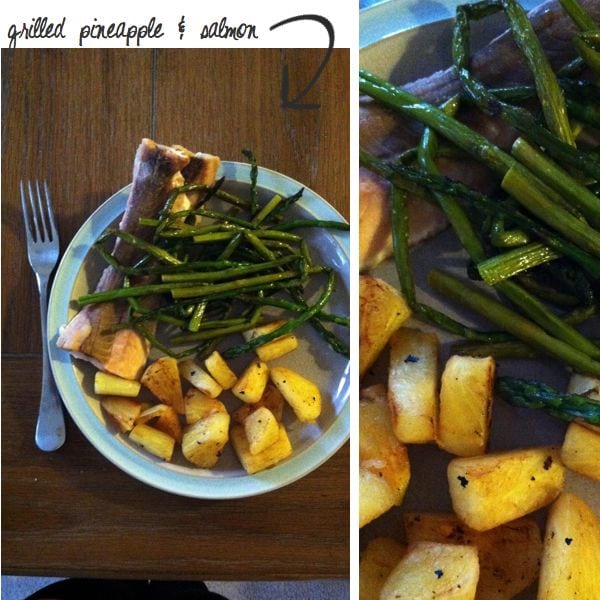 WHAT YOU NEED:
– salmon
– pineapple (cut up)
– lemon juice
– asparagus
– salt
– olive oil
TO START:
1. line two baking trays with tin foil. this helps for cleaner cleanups! and preheat the oven to 400 degrees.
2. place salmon on one tray and add lemon juice. place a couple pineapple pieces on top of the fish so that the juice can cook into the fish. cook for 25 minutes if frozen, 18 if thawed.
3. on the other tray, line the freshly washed asparagus. add olive oil and sprinkle with salt.
4. throw both trays in the oven at the same time and swap trays midway
5. grill the remaining pineapple in a skillet on medium heat while the fish is cooking. keep stirring while you grill. when the pineapple looks hot, grilled, and juicy – move to low heat until the rest of the food is done cooking.
6. serve and enjoy!
HAPPY EATING!!!
what are your favorite recipes with pineapple?