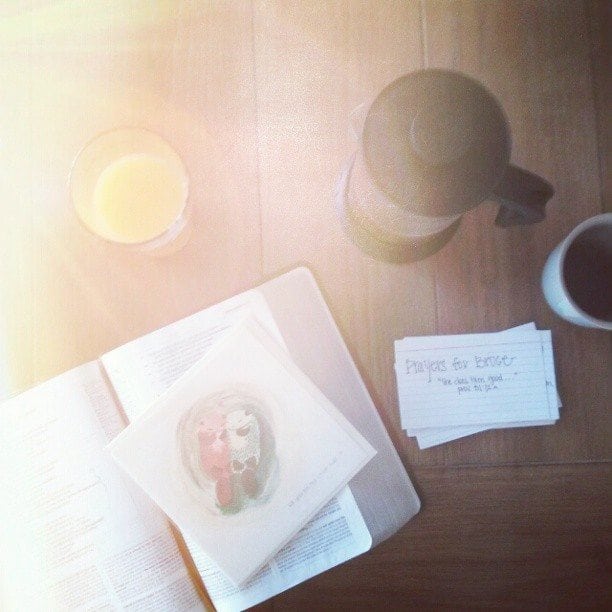 book clubs are cool. ( i feel like dr.who when i say that! anyone else get it? bow ties are cool?) and because we are cool, just like book clubs & bow ties, we created our own online book club. where we read, share, write, count, and be. read along with us – or don't! but please link up, share your thoughts, your journey.
CHAPTER EIGHT // HOW WILL HE NOT ALSO
these last couple mornings i have been setting my alarm a little earlier and actually listening to it when it starts singing at 6:45 in the morning. i am getting up. making coffee. spending time with Jesus and feeling a whole lot more refreshed than i usually do when i wake up at 8 or 8:15 and try to rush to get ready, grab food, and head out the door at 8:30. it begins in rush mode – stress mode (because lets be honest, if i don't speed or i hit too many red lights i am going to be late for work!). and once i start there i cannot seem to break it.
stress mode is not good for my heart so i tried an experiment to see if 1) i could get out of bed early and 2) to see if it was worth it.
it is so worth it friends. my heart needs a heart check before i run out the door. i need a lot of Truth to fight the lies of the enemy that will be whispered in my ear all day. i need the time to eat breakfast, grab lunch, maybe even stop for coffee on my way into work (i cannot believe i have time for that!).
but it doesn't always work that way. sometimes i sleep in. sometimes i cannot fall asleep because i am thinking about finances, work, projects, lists, relationships. sometimes all it takes is a low gas tank or a cryptic text from a friend to send my heart back into stress mode. i was convicted by this quote:"stress and anxiety seem easier. easier to let a mind run wild with worry than to exercise discipline, to reign her in, slip the binders on and train her to walk steady in certain assurance, not spooked by the specters looming ahead. are stress and worry evidence of a soul too lazy, too undisciplined, to keep gaze fixed on God? to stay in love? isn't joy worth the effort of trust?"(page 147)
i never really associated stress mode with my relationship with the Lord. i mean, isn't life just stressful? how many times do we respond to "how are you?" with "busy & stressed"? how many times has stress effected the way we respond to our husbands, coworkers, ourselves? how heavy is stress literally on your shoulders – the tension in your mussels. stress is s big deal people, and it is doing more than robbing you of joy:"stress isn't only a joy stealer. the way we respond to it can be sin. i stand in the laundry room looking out at the barn, knowing that stress stands in direct opposition to what He directly, tenderly commands: ' do not let your hearts be troubled. trust in God; trust also in Me' (john 14:1)"(page 146)
when i chose to give into stress. to worry. to wonder. to try to fix it alone. i fall into sin. i fall away from the Lord. the one to holds me in His arms and rocks me as He says "TRUST ME. trust Me"
Will I trust Him today? Will you?