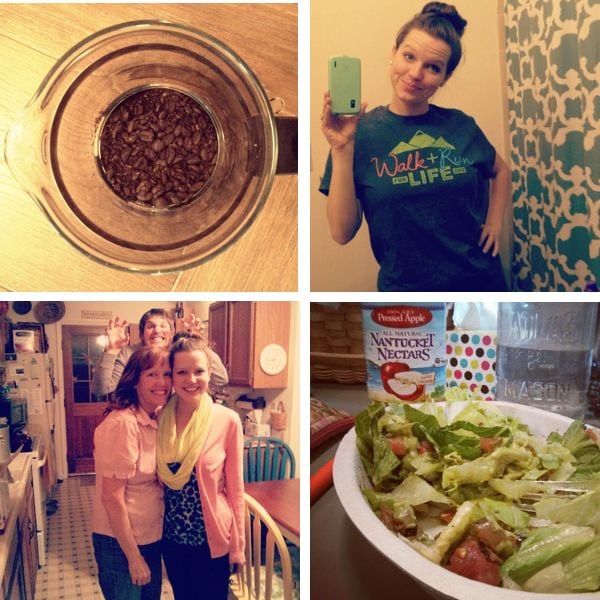 FAVORITE MOMENTS:
– celebrating my mommy's birthday! she just turned 55 which means my 25th is just around the corner! we are both spring babies 30 years apart 🙂
– paleo steak salads for dinner with on my work card. thankful for delicious food at my desk preparing for our Walk for Life kick off!!
– snowdays in the spring – i'll take it.
– the smell & taste of fresh coffee. there is nothing like it.
– our Walk for Life shirts came in!! i am loving the neon. feel free to click here and learn what i am talking about.
– dr.who dates with my husband.
– eating a slice of the best spice cake ever now that we are done with the whole30. thoughts on this and more coming this week!
SOME ANSWERS:
for those of you who were guessing last week which of my facts was a lie, the answer is:
2. i have never peed outside
because i am a Colorado girl and i have peed outside more times than i can count!
which means the other two are true and i think you deserve some story time:
1. yes i met justin timberlake and cameron diaz in vail. it was january 1, 2006 and we were just coming down from a long day with perfect powder up in the bowls. we went into the burton store to look around and literally ran into them. i couldn't figure out why the girl looked so familiar until my best friend whispered "don't look now but justin timberlake is standing right behind you!" we freaked out a little bit and mustered up the courage to ask them for a picture. they told us they didn't do pictures "on holiday" but we still talked to them for 10 or so minutes about snow and life and colorado. it was pretty epic.
3. and yes, i ran over my ex boyfriend with a car. it was in high school, in our school parking lot and it was TOTALLY an accident! he was playing in front of my car and i was a bad 17 year old girl driver and i knocked him over and ran up his leg. i backed off and he still wanted to go to get milkshakes but i thought we needed to call an ambulance. no broken bones. no stitches. just a scar from where the gravel and my tire ripped away his skin. he asked me to homecoming in the hospital so i think it had a pretty good ending.
FAVORITE SPRING TRENDS:
1. neon
2. floral prints
3. house plants