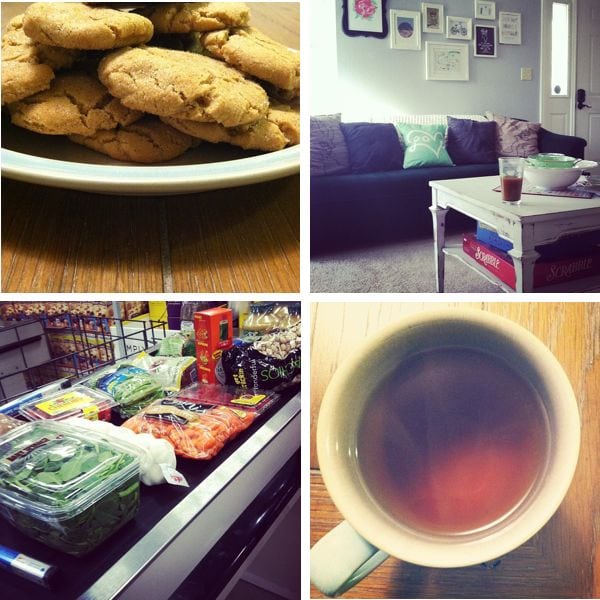 Colorado spring time is so unpredictable. we had snow, wind, shorts weather, rain, and everything in between this week. windows open to heat blasting. iced coffee to hot coffee. summer sandals to winter boots. so moody. but that is one of my favorite things about Colorado. i love how the weather is always up in the air. you've got to stay on your toes 😉 i bought a new pair of the
cutest shorts from GAP
on one of our hot days but it turned cold the day after i bought them – they are just waiting in my closet begging to be worn – so i totally have the summer itch!
FAVORITE MOMENTS:
– my sick husband begging to make cookies with me. how could i say no?! we always have too much fun when we bake together. pretty sure we invented the best snickerdoodles in the world (maybe i'll blog about them). good thing it was before we decided to go on the
whole30
because we ate them all.
– iced coffee & open windows. loving the hints of summer.
– sams memberships thanks to
livingsocial
 and filling up on loads of food for the whole30 cleanse that my husband convinced me to do with him. fruit. nuts. veggies. meat.
– movie nights with my husband when we can catch up on our oscar winning movies (Brave and Argo) & dr. who
– speaking of
Argo
, i think that ben affleck looks much cuter with a beard. right ladies? 
RANDOMS:
– i still haven't seen silver linings playbook yet and i REALLY want too. unfortunately it is not out on dvd yet.
– i have always hated cooking but i have had a lot of fun creating meals for the whole30… i'm learning to cook and it is kinda fun when you don't burn everything!
– my go-to music stations on my pandora are: "sound of music" "hillsong" "how to train your dragon" and "taylor swift" 


THINGS INSPIRING ME LATELY:
– learning how to cook & create delicious meals
– all these subscription boxes. Savannah from MaieDae just opened her popsugar box and i want one!
– finding balance. i am thinking i might need to start enforcing a bed time so that i can wake up and get done all the things i want to before work – get ready, make breakfast, and spend time with Jesus. i am hoping i can make it routine after awhile!