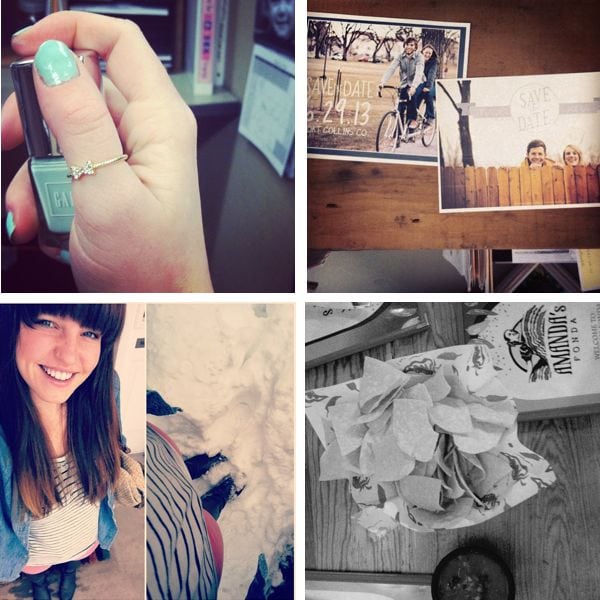 first things first – who else is morning the fact that Hugh Jackman didn't win an oscar last night?!!
sigh. the show must go on. good thing the whole cast came out and sang one day more!!!!
#highlightofmynight
second things second- my week in review via instagrams: (you should click here if you don't already follow me!)
FAVORITE MOMENTS:
– getting my new bow ring in the mail & painting my fingernails on a "five minute work break"
– dinner date with my parents at Amanda's Fonda. lovely.
– save the dates for summer weddings!
– snow & lots more snow. #itfinallyfeelslikewinter
– oscar party at my place with dear friends & bets for who will win
– night out with my man with a gift card to one of our favorite restaurants. we ate without feeling guilty about breaking the budget
-new shirt for $4.01 with tax SCORE!
FAVORITE OSCAR MOMENTS:
– jennifer lawrence winning best actress! i love her. loved her speech. and love hugh jackman who jumped up to help her when she fell.
– les mis cast performing one day more! it made me teary.
– anne hathaway winning best supporting actress! yes. my princes of genovia is all grown up and winning academy awards! i couldn't feel more proud. ps: i love how cute her hair is! props for rockin' the short hair thing!!