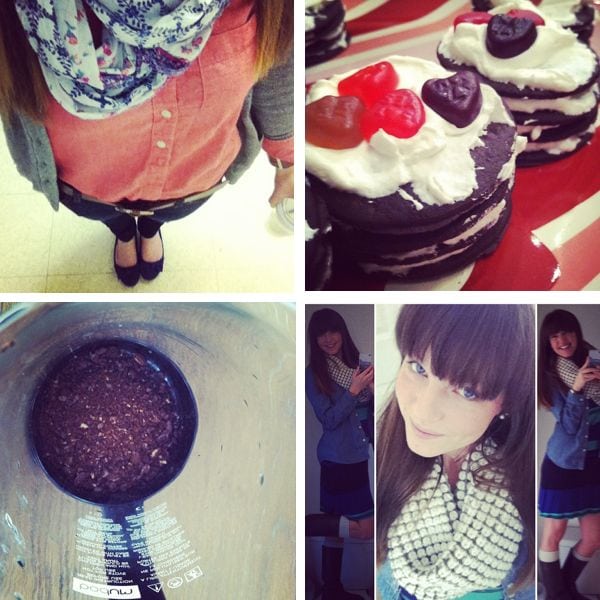 what a week it has been: valentine's sweet treating. working. clothes wearing. coffee drinking…
that is at least what my instagrams seem to reflect! 
FAVORITE MOMENTS:
– falling off the toilet when i stood on it to look at my whole body and maybe even take a couple selfies.  good one beth.
– watching Ratatouille with my man: his take away? "i want to learn how to cook" my takeaway? "i want to go to Paris and have someone else cook for me!"
– laughing, eating, talking, and planning with our marriage mentors. we love the Copelins!
– bringing puppy chow to my luncheon at work – mega hit.
– snow storms and 60 degree whether. so Colorado!
FAVORITE NEW BLOGS:
– Tickled Yellow
– The Story Project
– Southern Living Our Way
– Put A Bow on It
FAVORITE SONGS:
– Les Mis soundtrack is still on repeat
– this is my favorite song that plays at work
– everything on this album. saving my money to buy it!!!
FAVORITE TRADITION:
my family has watching American Idol since the beginning. it is just what we do. we make bets about who will be in the top three. we reply our favorite performances. and anyone who has ever lived with us knows, it is family night. & now that i don't live at home anymore my parents record all the episodes and make me watch them whenever i go over!
20 boys and 20 girls are heading to the next step but i think i found one of my top 3:
it made my eyes water.
HAPPY MONDAY! here is too a new week filled with so many things to be thankful for!
what are you thankful for this Monday?
let's bring a little joy to this day with such a bad rep!