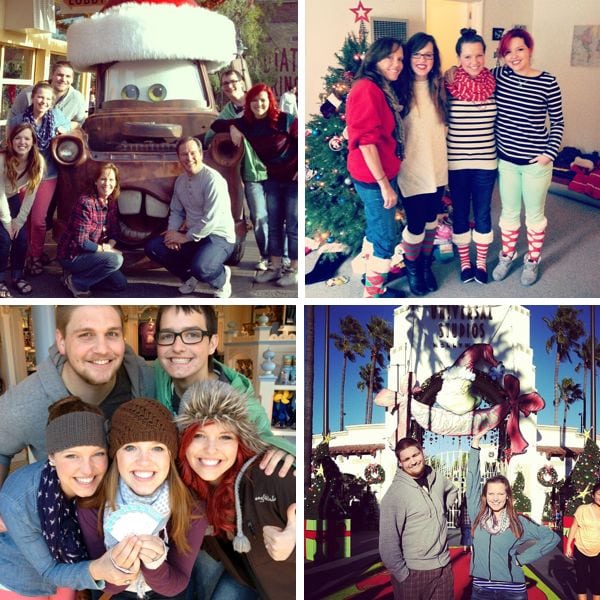 wow.
the husband and i just got home from a fast paced-roller coster of a vacation (literally). we spent five straight days at amusement parks in southern california with my side of the family! and now we both are back to work today – good thing today is monday/friday. the plans tomorrow include a whole lot of nothing 🙂
it is NEW YEAR'S EVE!!
when did that happen people?!?! i am looking forward to a quieter New Year's Night. we are starting with doing Christmas with the Mayberry side of the family and then we will head on over to our besties for some woodchuck and board games. yes.

FAVORITE MOMENTS THIS WEEK:
getting fast passes for the cars ride before they ran out so that we didn't have to wait in line for 4 hours!
wearing crazy christmas socks to the park christmas day
meeting Mater live and in person (i mean in car)
having my husband on vacation with me as part of the family
watching the Disney Christmas parade and the lighting of the castle – it really is magical!
NEVER HAVE I EVER:
gotten a speeding ticket
enjoyed the taste of soda (root beer doesn't count)
gone skiing (i started off snowboarding and i am too scared to try to switch!)
>>>>>>>>>>>>>>>>>>>>>>>>>>>>>>>>>>>>>>>>>>>>>>>>>>>>>>>>>>>>>>>>>>>>>>>>
HAPPY NEW YEAR'S to each and everyone of you. i'll be back tomorrow with some of my resolutions, goals, and dreams. until then, be safe and make good choices 😉