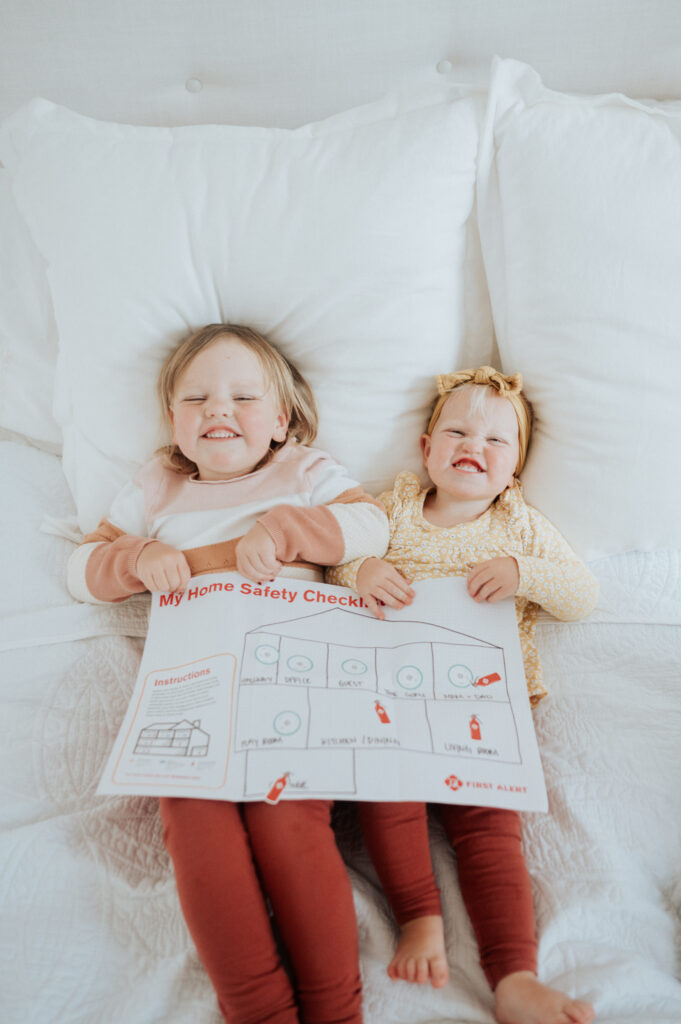 Thank you First Alert for sponsoring this post.
Did you know October is Fire Prevention Month? It is! And we took the opportunity to include our girls on a journey through our home to complete First Alert's whole home safety checklist! We made sure that our smoke and carbon monoxide (CO) alarms were installed where needed and in working order, our fire extinguishers were nearby in case of an emergency, and we had a plan in case of a fire.
Bruce and I desire (like many parents) to create a home where our girls feel safe. Where their needs are met, their imaginations can stretch, their minds can learn, their hearts can be molded, and bonds can be created. Creating a safe home has so many facets but one of them is physical safety so it is important for us to make sure our house is up to code!
We used First Alert's Whole Home Safety Checklist to work together. I drew a map of our house and labeled each room. Then after we checked all the rooms, I had the girls use stickers to place all our alarms and fire extinguishers! We use the dual alarms so all the alarms in our house are both smoke & carbon monoxide alarms. The girls loved that the map matched our house and was "perfect for treasure hunting!"
Smoke and carbon monoxide (CO) alarms should be installed on every level and in every bedroom of your home. We used the checklist to put stickers in all the rooms where we had the duel alarms. The girl's put them on all the bedrooms upstairs and both hallways in our home. They should also be tested regularly to make sure that they are working correctly and batteries should be changed every 6 months. For peace of mind, you can also upgrade to 10-Year Sealed Battery Combination Smoke & Carbon Monoxide Alarm. They will still need to be replaced every 10 years but they will help eliminate battery replacements! These are the ones we have in our house.
Before doing this checklist, we only had one fire extinguisher that we kept in the garage. We learned that we needed more to make sure we were practicing good safety standards. So we added First Alert' Rechargeable Home Fire Extinguisher to our bedroom, kitchen, and living room. Fire extinguishers should be placed on every level of the home in common places (Kitchen, Garage, Laundry Room, Pantry, etc.) The #1 cause of home fires is unattended cooking so having a fire extinguisher in reach of the oven/stove is very wise.
It's also important that everyone knows how to use the fire extinguisher. An easy way to remember how to use a fire extinguisher is with the acronym PASS:
P – Pull the pin
A- Aim the nozzle at the base of the fire
S- Squeeze the trigger
S- Sweep from side to side
You should have a plan to get out of your house and a meeting place for everyone in your family in case of emergency. Practice this plan at least twice a year and make sure you have two ways out of each room/area. Right now our girls are so young that we want them to get one of us if they hear or see something and we will go to our next door neighbors house to meet up. They love our neighbors dearly and know how to get there safely without going into the street.
If you have not gone through your home, finished the checklist, and made a plan in case of an emergency, now is the time! No matter how old or young your children are, you can include them in the checklist! This helps them feel included and also empowered to be safe and make wise choices!
As part of Fire Safety Month, @loweshomeimprovement wants to #buildthanks for first responders, doctors and nurses with a 10% discount Oct. 22-24. You can register for this special offer at Lowes.com/firstresponders