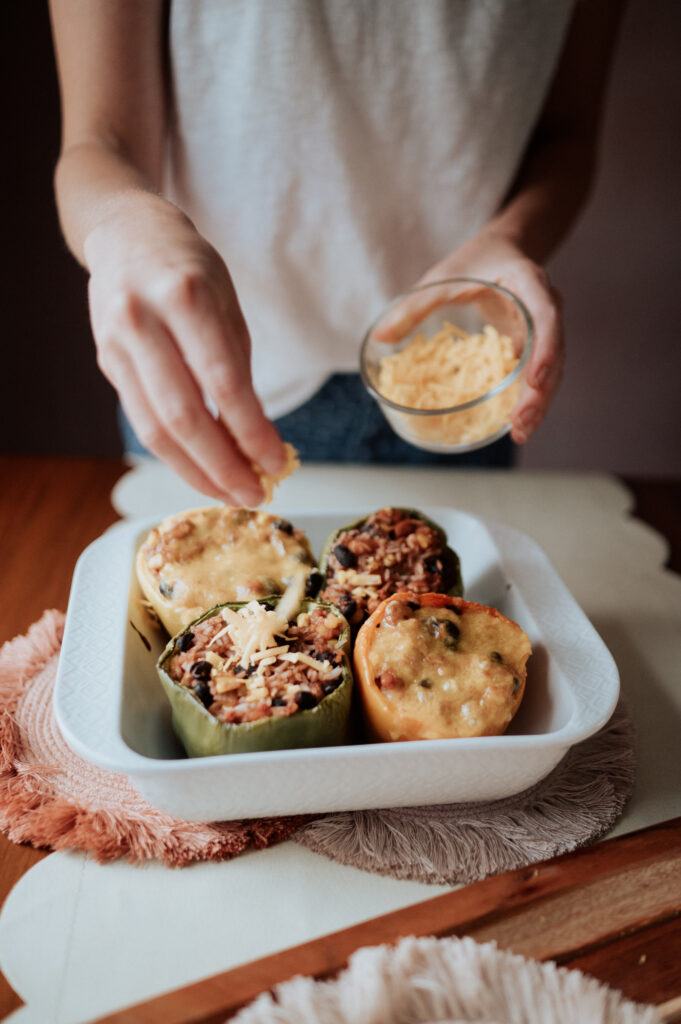 Vegetarian Stuffed Bell Peppers are a family favorite in this house. Not only are they and easy to make/ quick to make recipe but I usually always have the ingredients on hand since they are pantry staples (rice, beans, and corn!) Sometimes I go crazy and add in left over veggies in the fridge (like onions & zucchinis) which I love to do to keep things from going bad!
In just 30 minutes, dinner is served! Stuffed Peppers are a go-to in our home and perfect for busy back-to-school nights (or just any nights in general for this mama!) They are nutritional, gluten-free, vegetarian, and easily dairy free if you feel like cutting out the cheese!
INGREDIENTS
– Minute White Rice
– Bush's Black Beans and Pinto Beans
– Frozen Corn
– Bell Peppers
– Salsa
– Cheese
DIRECTIONS
1. Set oven to 400 degrees.
2. Clean & cut bell peppers and put in oven to start to soften.
3. Follow directions on box to make Minute Rice.
4. Add beans, corn, and salsa to bowl (All to taste!)
5. Spoon mixture into peppers
6. Bake for 15 minutes
7. Add cheese to melt, if desired, and put back in for 2-4 minutes
8. Enjoy!