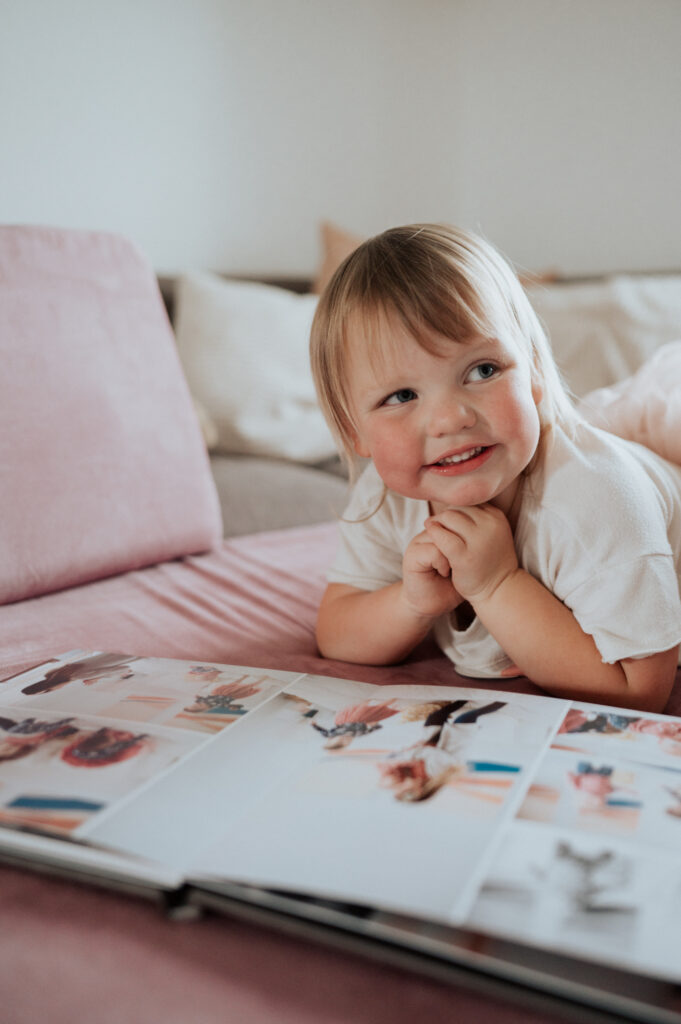 It's been awhile since I've shared an Our Daily Moments blog post. A big part of that due to the fact that two toddlers make life wonderfully busy! But I am SO excited to be bringing it back today with a new twist!
When I first discovered Good Photo, I fell in love with her heart for lifestyle moments. All her sessions are long form. In your home, at a place you love, on a hike, etc. She values and cherishes the everyday and she thinks families should have photos of that very thing! If you have been here for awhile, you may remember that I have a series called Our Daily Moments and it is all about capturing your day whether or not you have big life events happening. So often we skip the ordinary photos to only take pictures of events and posed pictures of kids saying "cheese" to the camera. These photos show how beautiful and memorable the ordinary is. The diaper changes, meal making, activity creating, and daily life.
Becky of Good Photo came to our house on a cold spring Friday morning and captured all the normalness, routine, and everyday of our lives. She made sure that both Bruce and I got in the photos and didn't shy away from the "imperfect" in our home. I know I am very guilty of shooting my home the way I want it to be seen vs the way it is 😉
So without further ado, here are some of favorite photos from our mundane Friday morning! Becky delivered SO many I couldn't fit them all into this post but know that I have a folder of moments that I will cherish forever!
Friday March 12th, 2021
Our morning starts downstairs together. We hang out in our pjs while we eat breakfast and enjoy the morning. We normally don't head upstairs to get ready for the day until around 9 or 10 depending on our plans for the day!
All the hats! We head upstairs to do diaper changes and new outfits. The girls take turns getting ready and enjoy the time playing in their bedroom. Since they share a room, all their getting ready stuff is in the same place which makes it easy for this mama!
Next we move to the master so that I can get ready. We have a baby gate set up between the bathroom and our bedroom (since our master doesn't have a door there) which lets me get ready without toddlers pulling hot curling irons or eating my lipstick. They usually run around the bedroom or jump on the bed! When I'm getting ready is their only master bedroom play time so they always enjoy it!
Back downstairs so that mama can finish her coffee 😉 and the girls can snack. We hang out in the living room and in the playroom. On warmer days we play outside and have the doors open wide. But today was cold and snowy and so our play was inside.
Build a fort time. We love our Nugget Couch and play with it nearly every day! The girls always ask me to build a fort for them and we always have fun with it! This is my go to shape although we just bought a new one and now we have two which makes the forts even more epic!
Before long, it is destroy the fort time (another kid favorite!) We turn it into a play structure – complete with slides & stairs!
Hilde asked to play with playdough and I decided to make a fresh batch! My mom made playdough all the time growing up and it just feels like it is part of the process. It is super nostalgic to me. I even remember helping as a kid. Plus homemade lasts longer and feels way better than store bought! I use this recipe when I make it!
When I have to make playdough it takes a little longer than normal, so the girls enjoyed some books while mama finished cooking!
And now the creating time! I have a box of random stuff I let Hilde smash into her playdough. I keep it with the playdough so that she can use it while she plays to be even more creative and textile.
Hello Dad! It's lunch time over here so dad came down to hang out with us! He works from home and gets to do lunch with us most every day! Hilde got a new game that she loves to play with dad so she convinced him to play a quick round as I got lunch ready.
Lunch time! We eat almost every meal together together so it's very normal for us to all gather around the table!
Then a little more post lunch play as we start to wind down for naptime & quiet time.
Back upstairs to change diapers, nurse, and put Millie to bed in her crib for nap. Hilde doesn't nap so she does quiet time downstairs.
That brings us to the end of our time! Four hours of real life with the Mayberry family on a cold and snowy Friday morning. You may have noticed in the first photos that not only did we get a file filled with photos from our day but also a beautiful photobook! All Good Photo photo packages come with a photo album so that you not only have all the photos on your computer but also in you home and hands!
PS: If you feel like comparing this random March days with some in the past, here is Our Daily Moments for March in 2020 and 2019!