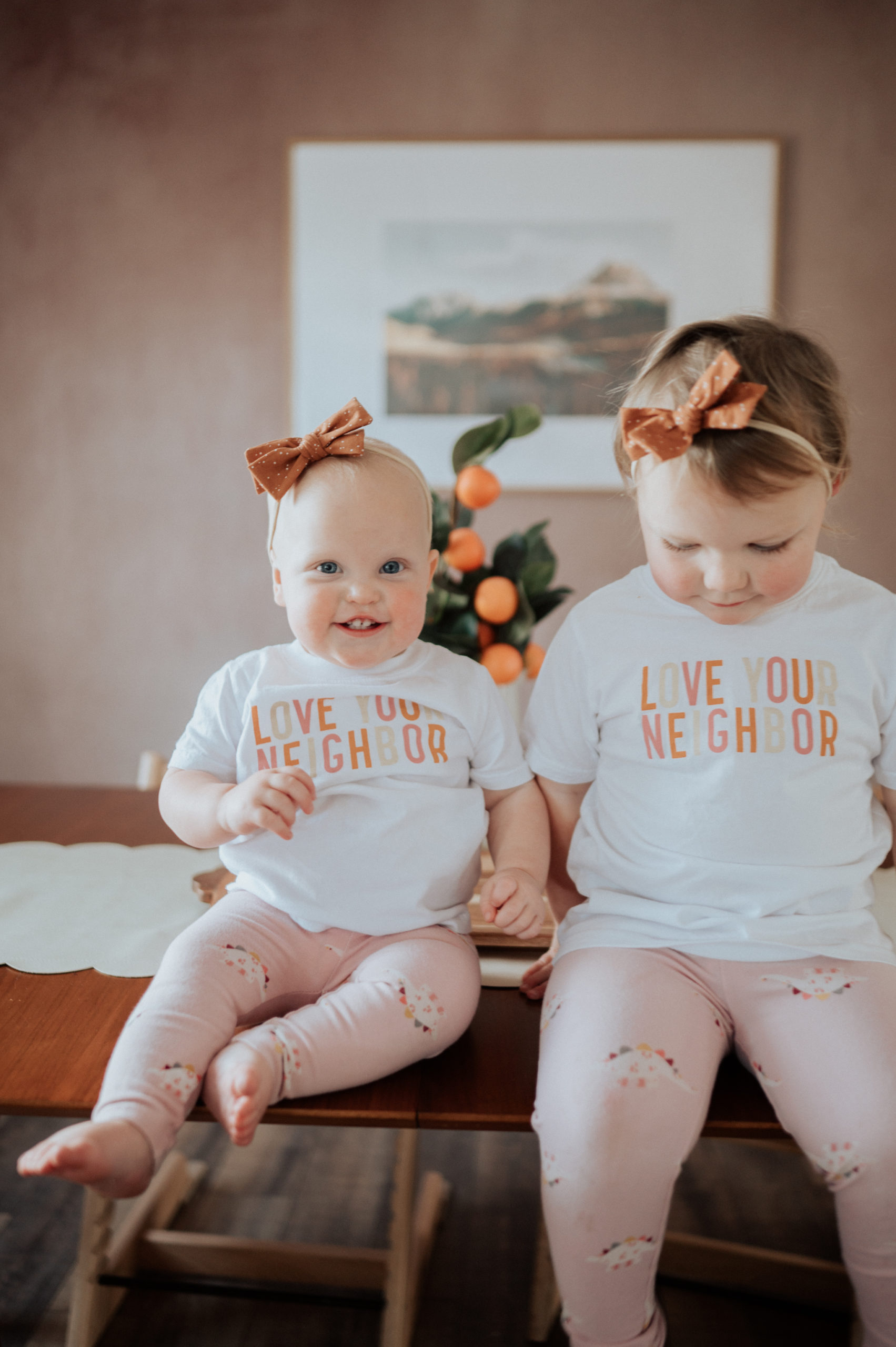 We got a new stove/oven last week and it is the bees knees. After living with a dysfunctional oven for a year an a half, it feels magical to use all the the burners and also be able to bake again. The kids are just as excited about the new stove as we are (I guess they learn from us!) and Hilde has been showing it off to everyone who comes over.
A couple days ago my Mother-in-Law came over and Hilde proceeded to grab her hand, lead her to the oven, and shout ta-da while she threw her hands open wide. "My neighbors helped us put it here!" she exclaimed. No, our neighbors were not the ones who helped cart the old stove away and replace it with a new, shiny, (expensive), oven (although or neighbors are gems and TOTALLY would have if we asked!) It was a team of young men that Home Depot hired to do the job.
This isn't the first time Hilde's definition of neighbors has been more Biblical than literal. We stand by neighbors in line at stores, we watch neighbors take their dogs on walks, we play with neighbors at parks, we see neighbors at church, and you get the picture. In Hilde's world there are only family, friends, and neighbors.
And for the lives of the believers, it should be the same. The family we are given (including the family of believers), the friends we choose, and the neighbors who, no matter how different they are from us, we still love as ourselves.
"And you shall love the Lord your God with all your heart and with all your soul and with all your mind and with all your strength. The second is this: You shall love your neighbor as yourself. There is no other commandment greater than these."

Mark 12:30-31
I've been blessed when it comes to family – it is easy for me to love them. And friends – so easy to love them! I chose them to be my friends – no obligation or agenda, just shared interests, good laughs, fond memories. Love the Lord and love my friends and family – that isn't too hard, but that "neighbor" addition makes the greatest commandments a little tricky.
I can find the question asked by the lawyer to Jesus in Luke 10: 29 so familiar. "But he, desiring to justify himself, said to Jesus, 'And who is my neighbor?'"
Jesus replied, "A man was going down from Jerusalem to Jericho, and he fell among robbers, who stripped him and beat him and departed, leaving him half dead. Now by chance a priest was going down that road, and when he saw him he passed by on the other side. So likewise a Levite, when he came to the place and saw him, passed by on the other side. But a Samaritan, as he journeyed, came to where he was, and when he saw him, he had compassion. He went to him and bound up his wounds, pouring on oil and wine. Then he set him on his own animal and brought him to an inn and took care of him. And the next day he took out two denarii and gave them to the innkeeper, saying, 'Take care of him, and whatever more you spend, I will repay you when I come back.' Which of these three, do you think, proved to be a neighbor to the man who fell among the robbers?" He said, "The one who showed him mercy." And Jesus said to him, "You go, and do likewise."

Luke 10: 30-37
When the definition of neighbor grows from whoever lives next door to you to everyone you meet and have any kind of relationship with (even in passing while walking down the road), this command carries more weight. The parable of the Good Samaritan not only points out neighbor as anyone we come across but even pushes past cultural, political, and social barriers. Our neighbors are the people who voted differently, were raised differently, make more or less money than we do, and have different personal & religious beliefs than we do.
My toddler in her 2.5 years of life and her limited view of the world, gets it. The way we treat and interact with oven movers needs to be filled with love. The grocery store, playground, and parking lot interactions all need to be rooted in love. The people on the other side of the internet, trolling accounts, tearing people down, and hating Christ – yes, even they are our neighbors and we need to respond with love.
It is no secret that right now our current culture is divisive. A war is raging between political parties, mask beliefs, vaccine preferences, and really anything that we can fight about. Everything screams you're either for us or your against us. The world tells us to respond to people with different backgrounds, beliefs, skin colors, preferences with fear and with hate. Changing minds (or proving ourselves right) by canceling, shouting, shaming, and hating. Friends, that is not the way of the Lord.
Owe no one anything, except to love each other, for the one who loves another has fulfilled the law. For the commandments, "You shall not commit adultery, You shall not murder, You shall not steal, You shall not covet," and any other commandment, are summed up in this word: "You shall love your neighbor as yourself." Love does no wrong to a neighbor; therefore love is the fulfilling of the law.

Romans 13:8-10
And it is by this – our love- that the world will know we are Christ's disciples (John 13:35)
So the question shifts from "who is my neighbor?" to "won't you be my neighbor?" Mr. Rodgers knew what he was talking about 😉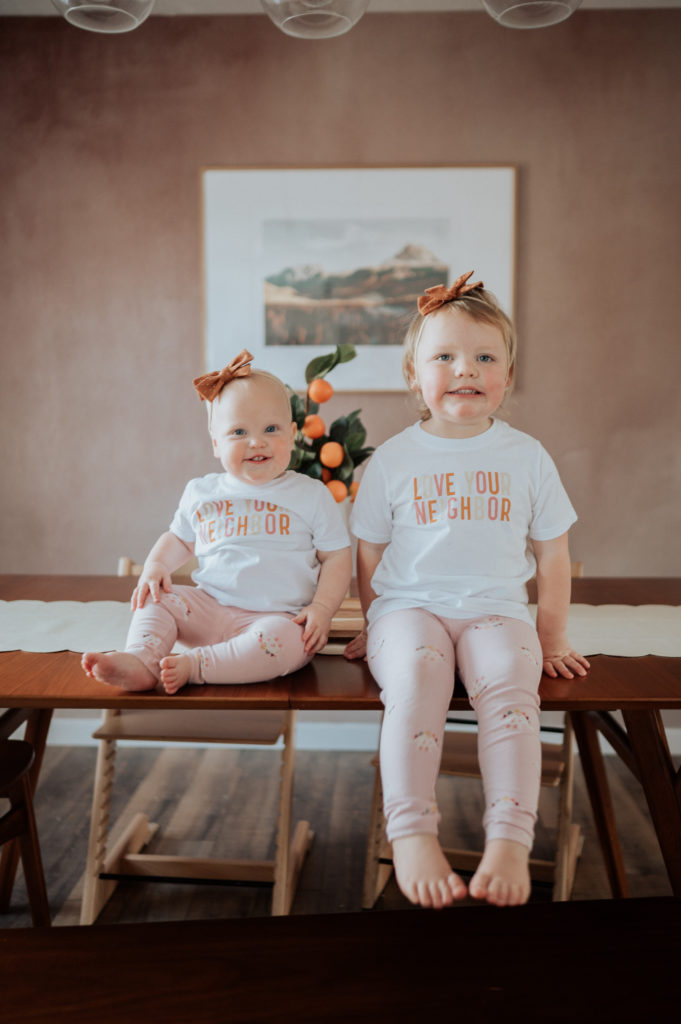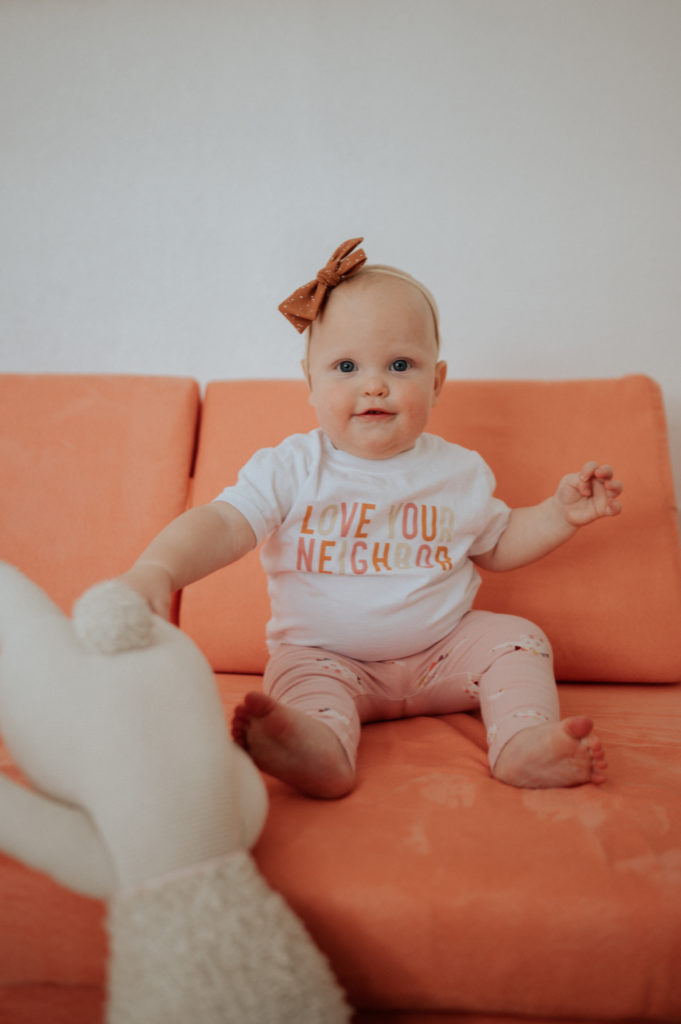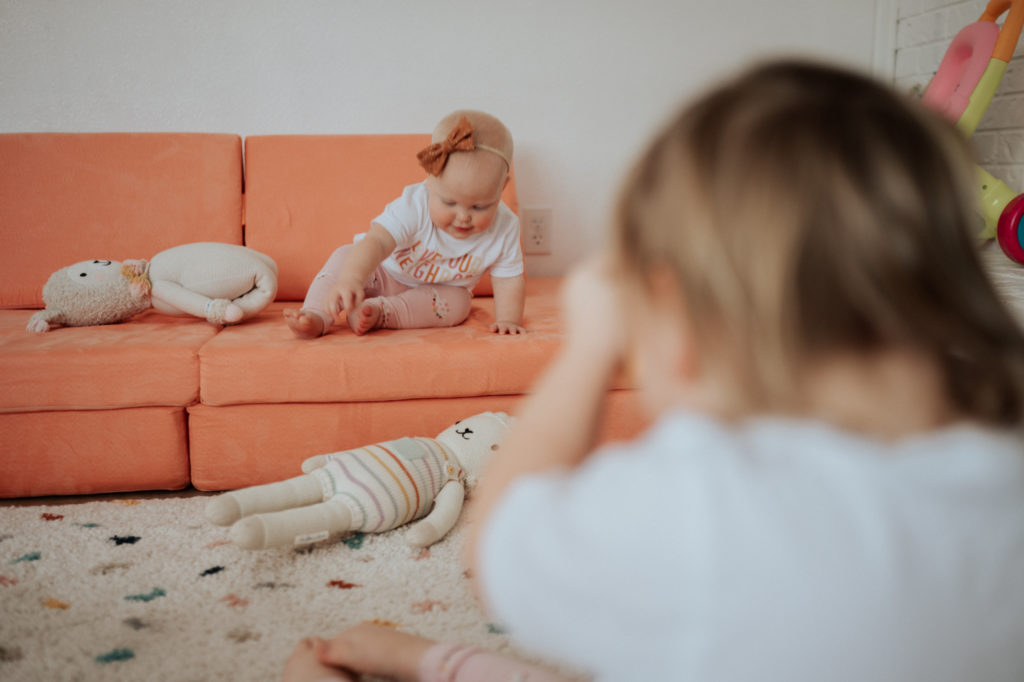 PS: The girl's shirts are from Baily T Hurley and we love them for obvious reasons!