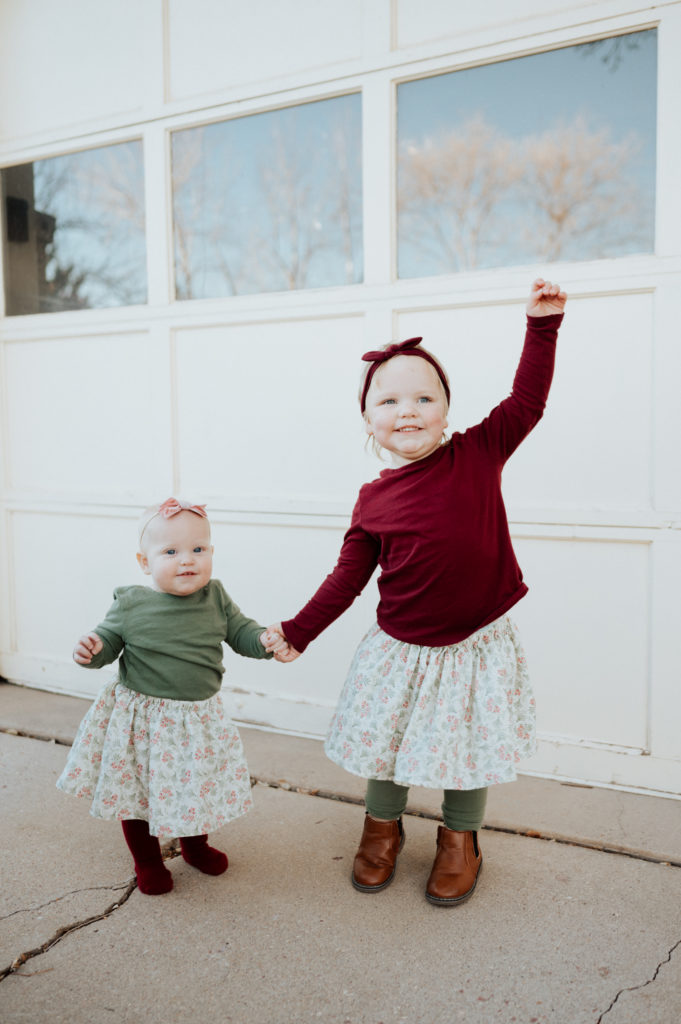 During this photo Hilde was yelling "Picture Time! Picture Time!" Because I said once we got this photo she could inside and play with her cousins! Apparently my bribe worked because she willingly took a bunch of cute photos with her little sister!
My mom found this vintage Christmas fabric while thrifting for $2 and I fell in love with it! We had to figure out a way to make use of it and we figured out it was enough fabric to make two skirts! Old Navy had a sale on the long sleeve shirts (only $5) and to be able to do local pick up, I had to get different color shirts! Hilde's leggings are conveniently from our Halloween Costume (another Old Navy buy) and I had these tights for Millie in her drawer (they used to be Hilde's 2 winters ago!) And that is how their Christmas Eve outfits came to be!
Every Christmas Eve we get together with Bruce's side of the family and this year was no exception. It was such a joy to be able to be together and celebrate the birth of our Savior. I always wish I took more photos when I look back on them but I did get a couple.
Not pictured, the fondue dinner, singing Christmas carols around the piano, the 12 days of Christmas plates, and the kid table where Hilde sat grinning the whole time. As we drove away that night Bruce and I reflected on what a gift it was. One of the best we've had together.
Just a reminder that not everything about 2020 is terrible. The news is always pushing that narrative but ask the Lord to open your eyes to His goodness.