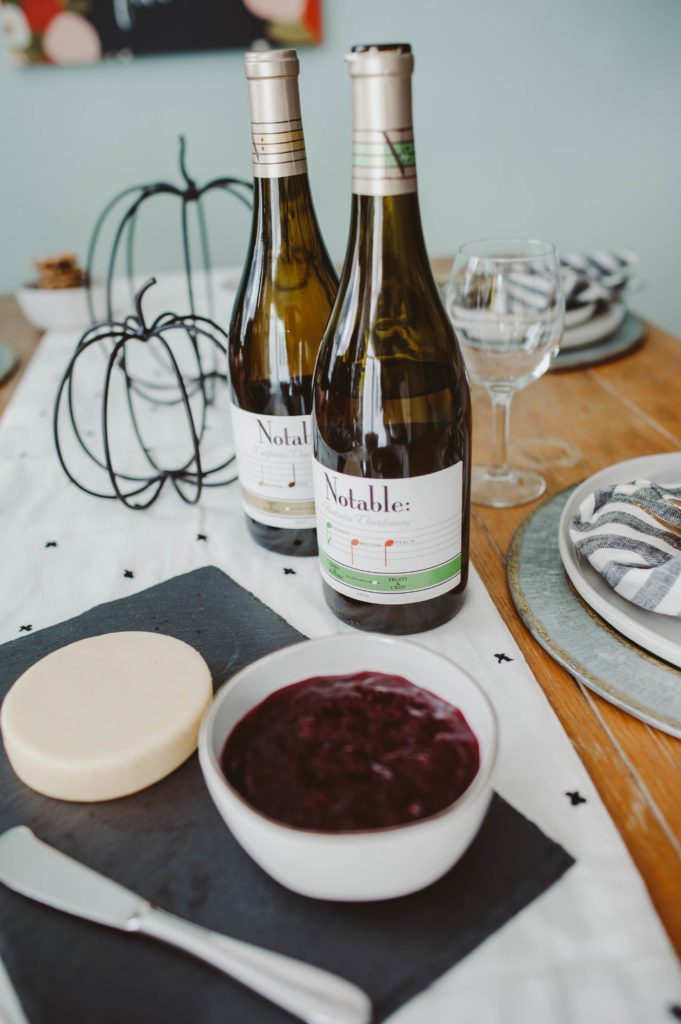 This shop has been compensated by Collective Bias, Inc. and its advertiser. All opinions are mine alone. The following content is intended for readers who are 21 or older. #Chardonnation #NotableHoliday #CollectiveBias
This past weekend we celebrated Friendsgiving.. or should I say Familiesgiving (It doesn't have the same ring too it!) Blake & Sarah (my sister & brother-in-law) are moving across the country next week and so we don't get to do Thanksgiving together. Boo! I mean, we are so pumped for them and this new journey the Lord has for them but we are also SO SAD that we won't be able to hang out as much as we do now! This has been a really exciting but quick turn around for them and we wanted to make sure we got some good time with them before the move.
We invited them over for a little Friendsgiving gathering – just the four of us – to talk about life, create new memories, and get excited about the future. I picked up a couple bottles of wine to go with our simple cheese board. With a whole day together, I thought it would be fun to enjoy some appetizers with a glass of wine!
I love Notable because it highlights the flavor profiles on the front of the bottle which makes the wine aisle way less confusing for me! There are so many fun bottles, locations, and names but I don't always know what I am going to get when looking at the bottle. Notable not only lets me know, but does so in a beautiful way! I've said it once, and I will say it again! I buy products based on the packaging!
Continuing with the theme, we had some classical music (aka "festive") on in the background while we chatted about plans to visit and packing the rental truck. Goodbyes are not easy but sometimes they are pretty exciting. It is so fun to see your siblings chasing their dreams and doing bold things!