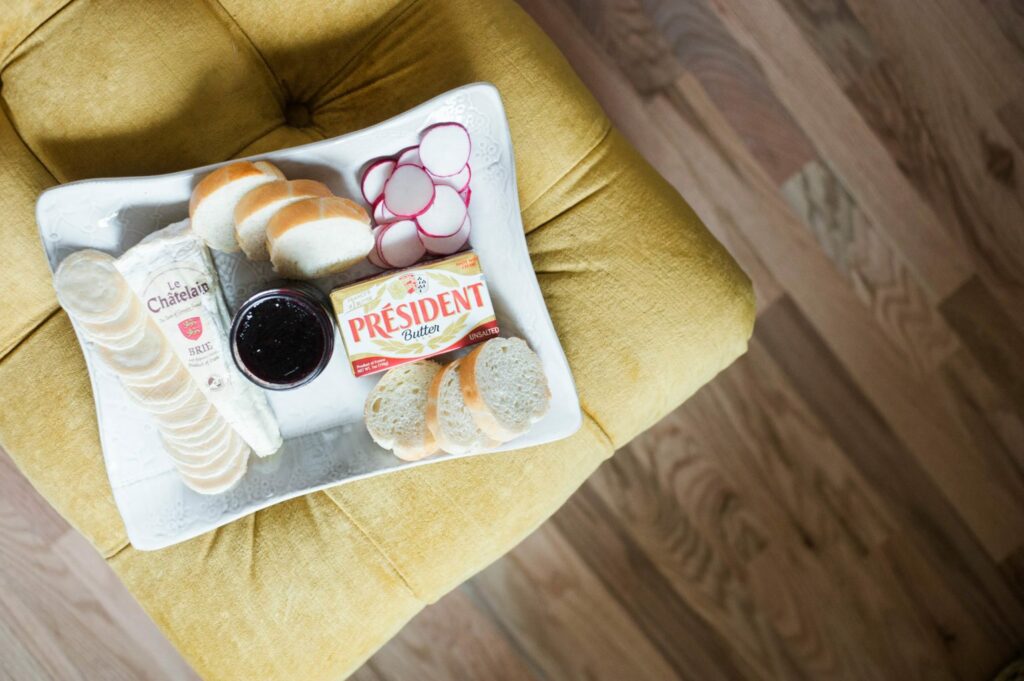 This post is sponsored by The French Ministry of Agriculture and participating brands, but the content and opinions expressed here are my own.
Guess what, it is May! I love May. It brings the end of school (back when school was a thing 😉 ) the beginnings of all things summer, flowers, growth, and my birthday! I am a May baby and proud of it 😉 With it being on the brink of May (now obviously days into May), we organized a little post work happy hour. Happy Hour is something we do well. These girls are always up for a gathering and a good glass of wine (or a margarita or a local brew.) And we also like our snacks. We find such joy in gathering together, sharing a meal, trying new things, sipping wine, and chatting about life. It's the little things.
For our May Day Happy Hour we took a trip to France while staying in our kitchen. While we all would rather be sitting by the Seine, we brought that French lifestyle to Colorado. Our original plan was to lay out a blanket in the backyard and let the sunshine pour on our skin. As the day drew closer, rain loomed in the forecast. We had to bring our Happy Hour inside but we were still just as happy 😉 I've been really learning to let go of perfect and just embrace time together. We don't need the perfect table settings or home to welcome in people. We can all rush in straight from work with bottles of wine & snacks we pick up. We can cut bread & radishes together, pour wine, set the table, and chat about the day. To host you don't need everything already ready, you can make that part of the evening – you can do it together.
On our May Day Happy Menu we had a variety of wine & foods from France:
Trimbach Riesling & Pinot Gris from Alsace (Eastern France, next to German border). These two wines have quite unique and utterly distinctive flavors, more sweet and crispy. People are often astonished by the quality for the affordable price of Alsace Riesling and Pinot Gris.
Château D'Esclans Rosé from Provence (Southeastern France).This region is the main and best French region to produce quality Rosé. France is the origin of 78.3% of all U.S. Rosé imports!
Mas de Daumas Gassac Red & Sparkling Rosé wines from Languedoc (Southern France). This region is one of the most exciting regions to explore for the wine lover. It is becoming a trendy region for its affordability and efforts on the quality. The demand is growing fast in the US with +38% of volume exports between 2015/2016
President Butter from Normandy. This region is known as the "Grand Cru" of European dairy regions. Its oceanic climate, rich soil, and lush grass help produce butters that are distinctly rich and savory.
Brie Cheese from Raival in Meuse (Eastern France). These dairy products are among the best Brie of France
We added some radishes and bread to eat with the butter. The President Butter is really delicious and there is no wonder it is the best in all of France! Our friend Kelsey told us that radishes and good butter go well together so we all tried it and all kind of fell in love. We also had crackers and sour cherry jam to eat with the Brie! Brie is one of my favorite cheeses because there are so many ways to eat it – you can make it sweet or savory! We opted for sweet today since it was May Day and everyone needs a little something sweet after a long work day 😉
These girls and these happy hours mean so much to me. You don't have to go to France (or be loaded) to have a cultural experience. You can pick these wines & food up at your local grocery & liquor stores for pretty affordable prices. And when you gather, you can all bring a little something to share – that way you always have an abundance and you can try new things. Our journey around France was just what we needed. We welcomed May. We chatted about life. We tasted new things. And we were ready to take on the week!
PS: Just in case you were wondering, my dress is this one from Amazon (yes!) and Monica also has a blog and you should check her out!