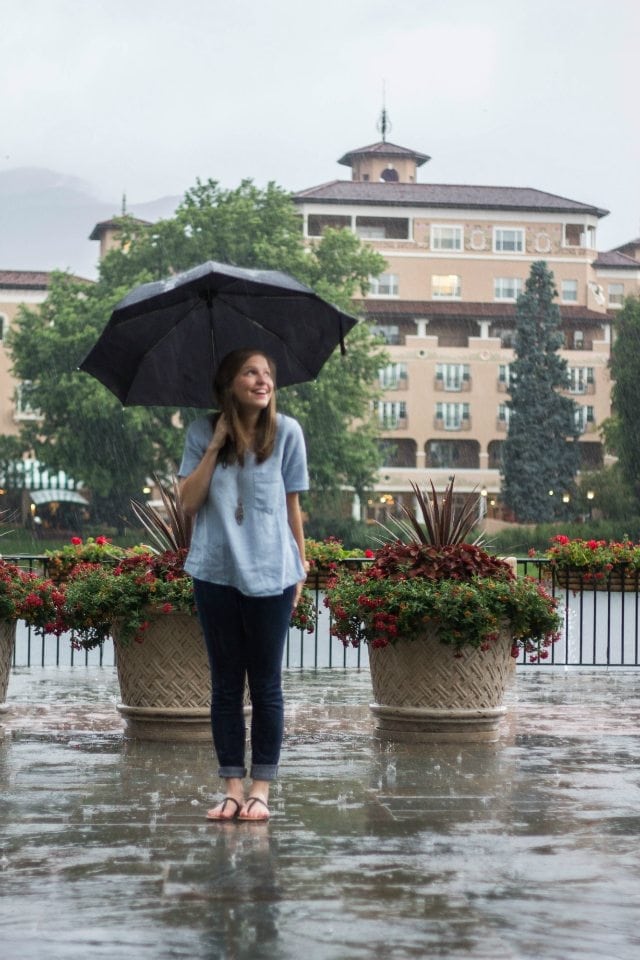 LOCATION: Colorado Springs, CO
DETAILS: Joy Long Necklace (c/o) || Simplicity Pearl Earrings (c/o) || Chambray Top || Skinny Jeans || Sandals || Jorde Cora Watch (c/o)
I always love a good Colorado thunderstorm! The nice big ones that are carried by giant, heavy, gray clouds. They plow in just as fast as they plow out while dumping inches of rain in a short amount of time. I think I love the thrill of it all. The lightning stretching across the sky, the thunder roaring and startling me every time, and the constant "severe storm warning" alerts to my cell phone.
The other evening we set out for a coffee date at the Broadmoor to sit outside and watch the Colorado sunset set and take some fun golden hour pictures. Then, out of nowhere, on our way over fat drops turned to a downpour and there we were in a beautiful thunderstorm. We grabbed hot coco, played in the rain, and then cozied up inside by the fire place – we couldn't have planned it better!
I'm loving this new Gap Chambray top I got on sale last weekend and this fun long necklace from Happiness Boutique (free shipping!) It makes for a great work to everyday life outfit and I'm all about that!
Sometimes life has thunderstorms. They are scary, loud, messy, and not in the plans but I'll bet if you try to see it at a new angle, you will see a new adventure as well. Here's to thunderstorms – the literal ones and the furniture ones – let's embrace progress over perfection.