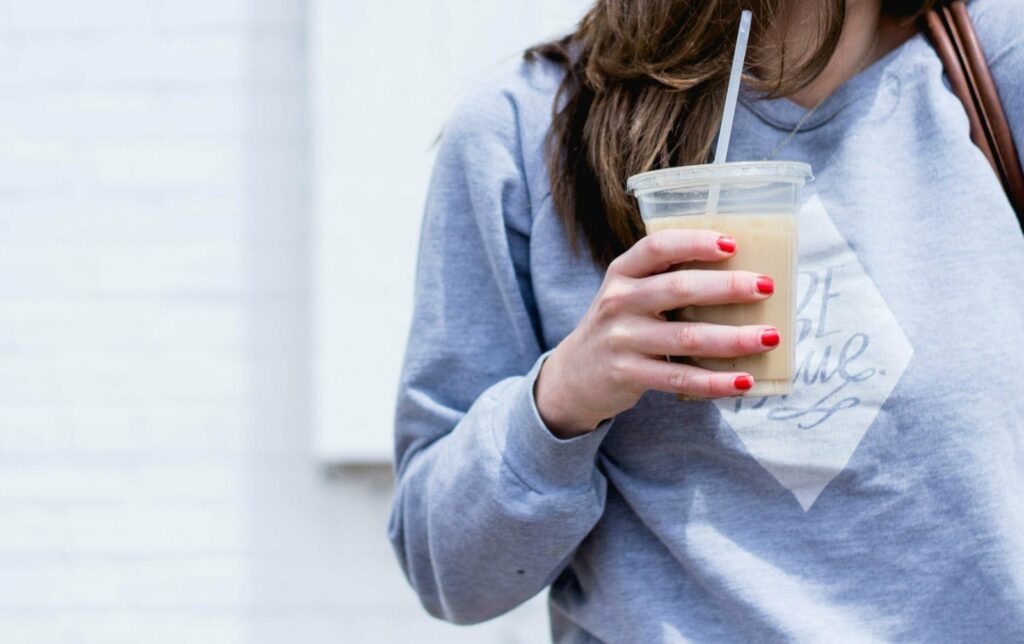 I twirl my keys in my hand, throwing them in my camera bag after I've triple checked that I clicked the "lock" button for my car. I immediately pat my back pocket to make sure my cell phone is still there and pull it out to see how late I am. It is only three minutes past – I am relived but I'm still speed walking to the coffee shop. I swing open the door and see you sitting at the cutest table in the shop. You always show up on time and I am always rushing in late but you giggle and say you literally just got there – sure 😉 We wait in line to order and I'm just smiling because it is so good to be here with you. I'm planning on hiding my phone in my bag the whole time and I brought my camera so I am hoping you'll let me play around with it and be my model.
We sit back down with our drinks. Thank goodness that it is warming up out there because Iced Chais just taste so much better. There has been a lot going on lately and we haven't been able to catch up in awhile. There is a lot going on in my heart and in my world and I feel like I am behind on everything – we should have grabbed coffee weeks ago. "We're here now!" you graciously chime in. I am so thankful for friends like you who helps bring me back to reality. You know by now that I struggle with perfectionism in my relationships and in my world.
I ask you how you have been and you tell me so many things – "it's been too long" I think in my head while you smile and share. Being with you is just easy and it nurtures my soul.
You tell me how the pregnancy is going and I share how I've been praying for a healthy baby for you long before you told me you were pregnant. I love how the Lord works like that and even though we don't see each other everyday, you are always on my heart. We talk about all the house projects we have been working on (because we just love that kind of stuff) and we make plans for dinner and games because our husbands adore each other and the four of us could totally be some kind of super hero group!
Or you talk about your new job and how you are kinda nervous/excited about everything. All of the sudden you are the director and you are all on your own this summer. You question your ability and I just laugh because I know you have it in you – you were made for this. I also become intensely aware of my age, you were just my camper and now you are leading camp – funny how time works. I reassure you that you were called for such a time as this because I read in Ester this morning for my devotions and it was still on my heart. You got this.
Or we talk about how you are graduating in like three weeks now with your doctorate and it is kinda insane. All these years of school and all of those times I texted you just to make sure that you were not going to the dark side – your going to make it! You are so close. We are meeting today because you can finally come out of your room where you held up for the weekend as you finished your thesis. Now you just have to take your boards and I only have encouragement for you because I know nothing about taking a test like that but I know you can do it. I also could cry tears of happiness that you are thinking about finding a place to live here in town because I want you here!
I guess it is my turn to go. I'll talk about the basement and how we are finishing it. Yes, on our own and I don't really know much about all that so I can't give much details. I'll just say the boys are taking care of it for now and I'll let you know when you can come over to help me paint!
I'll say my job is good – I love the people, I love what I do, but I am just craving a bit more. You'll ask me what that means and I'll get kinda shy. You see, I would love to blog for my full time job but I always feel weird saying that out loud. You know I blog and you know that every time I tag you in an Instagram you get new random followers but it still feels strange to talk about my blog when I am not in front of a computer screen.
But you make me feel free to dream so I share with you that I have all these ideas in my head but no time to execute them. I want to offer consulting packages, write a ebook, and maybe even make an ecourse! I want to learn, learn, learn and take pictures of everything. I want to stay up late, sleep in, and create but I still have a normal job. I sigh because adult life is hard and I feel like the only way to be able to quit is to have a baby but I am not ready for that. So I joke with you and tell you to pray my blog explodes so that I can quit and we can still pay for health insurance! Maybe I'll tell you to pray that it gets big enough to pay for a trip to the Caribbean because I want an adventure with the mister!
I whip out my camera to play around and then I hand it to you so you can have a chance! In fact, you always take some of the best photos of me and I am thankful for your help with my blogging content 😉 Our drinks sit empty on the table and you check your phone to see the time, two hours later. We can never have a short coffee date – they just don't exist. We could easily stay (especially if we start watching YouTube videos) but it is time to say good bye. I have dinner to make and you have errands to run. We hug because I am a huger and whether you are or not, you hug me back because you know it communicates all the love to my little soul.
We part at the door after we fiddled in our bags to find our keys. "Love you, see you later!" I shout kinda awkwardly down the street as I wave because it is true. I'll see you soon.