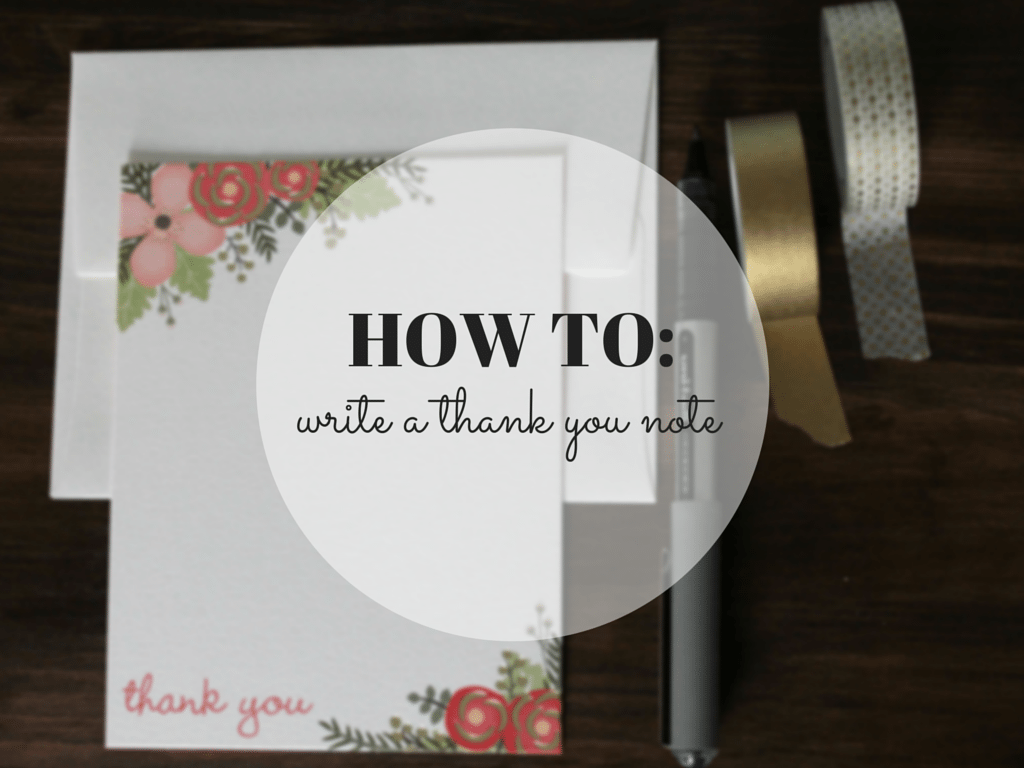 Saying thank you can go a long way. The simple fact of acknowledging someone for a kindness, act, gift, or talent is an easy way to spread joy, encourage, and uplift! I am passionate about snail mail and think that sending a thank you note is a quick & thoughtful way to let the people in your life know that you are thankful for them.
Whether you have a list of gifts that you need to write thank yous for or you just want to appreciate your friend for picking up your kids after school, a thank you note does not need to stress you out as you try to formulate it. These three steps (and some extra bonus points) will give you confidence as you write your notes:
Personalize and date the card. Thank you notes don't need to be stuffy, most of the time they are going to people you love (and are thankful for!) start with a first name, nick name, or simple "hello!" It is also important to always date your cards! I know I am not the only card hoarder (the written word is too beautiful to throw away) and it fun to know when the card was sent!
Be as specific as possible & share why you are thankful. Thank your aunt for the baby quilt she made by hand and share how it fits in perfectly with the colors of the baby room OR thank your best friend for always sending witty texts and hilarious memes that make you laugh throughout the day. The more specific and the more you share your heart with them, the more it will touch their heart. NOTE: Do not lie or exaggerate this part. If the quilt that your aunt made does not match the baby room, don't say that it does. Share with her a truthful reason you are thankful for it or imagine it being used – like maybe "I know it will enjoy many movie nights, childhood forts, laundry cycles, and naptimes."
End with the future and a sign off. As you wrap up your note, make one last connection with them.  Let them know you are excited to see them at back to school night, your high school reunion, on facebook, or on your next trip to your mailbox. Express a desire to connect with them again in the future whether that is in person or online. Then sign your name. I tend to always use XOXO in my send offs but you can find your own way! Make it consistent with the tone of your note (so sincerely may be too stuffy.)
BONUS tips
If the gift was money or a gift card, share what you used or are planning on using it for. Like "I am so excited to put that cash toward a new camera!" or "I bought some much needed new blue jeans from GAP with that gift card." You should not mention the amount in the note, you are thankful for the gift whether $5 or $100.
Send the note even if you are late. It is always wonderful to know that someone is thankful for you, even if it is something you did in the past.
Always throw in your business card if it is related to your job, shop, or blog! It is an added touch and contact. They may not keep your note, but they will keep your card and remember your thoughtfulness (mine are also from Minted!!!!)
Take your time, use your legible handwriting, and pretty stationary! I love this stationary I have in these pictures from Minted. It makes the note just a  bit more beautiful and thoughtful. You can see all their other Thank You Cards here. Some washi tape from Thatch & Thistle, personalized stamp from Expresionary, and Harry Potter stamps complete the package!