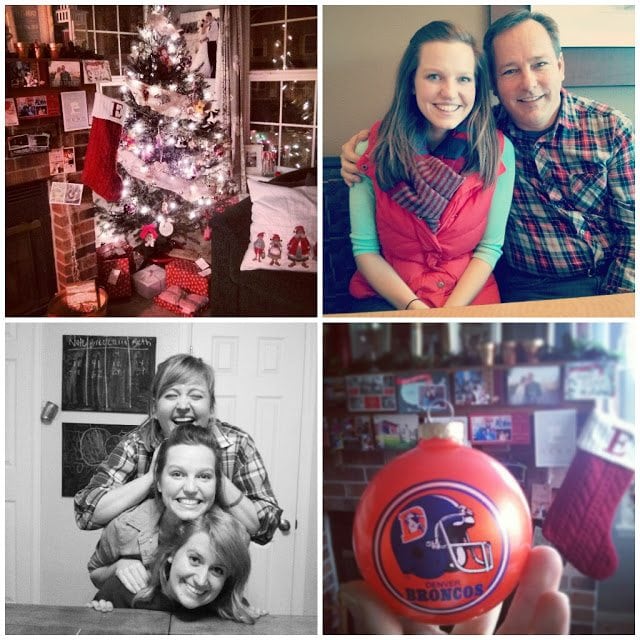 SNAPSHOTS:

1. a Mayberry Christmas: the calm before the Christmas chaos. although wonderful as it was, the silent nights are also so precious.
2. festive outfits: for Christmas Eve we went to see Saving Mr. Banks with my family (simply wonderful!) and went out to eat at Chick-fil-a for lunch. my dad and i also had matchy-matchy outfits – we must be related!
3. camp reunion: these ladies were back in town for Christmas break and came over to watch the Bronco game slash stay forever. i love friendships that pick up right where you left off. and these ladies are so dear to me. ps: the floating head picture is a classic, all grown-ups do it!
4. BRONCOS: i love the old Broncos logo and my family gave this ornament to Bruce & i this year. i am thinking it means Superbowl win!
OTHER FAVORITES:
– kids, the Broncos are breaking records all over the place. it makes me giddy.
– CHRISTMAS!!!
– watching my nieces & nephews open gifts! #priceless
– having a whole week off work
– playing new games (i got Bruce Kingdom Builder for Christmas and he got me expansions for 7 Wonders. i recommend both!)
– sweet time with friends and family in town
– Bruce's work Christmas party!
YOU MAY HAVE MISSED:
under the tree
Disney World (& an opportunity to guest post!)
the gift of Christmas
GOOD READS:
remember. annapolis and company
batdad
do you want to get on the rollercoster. elah tree
tell me about your week!