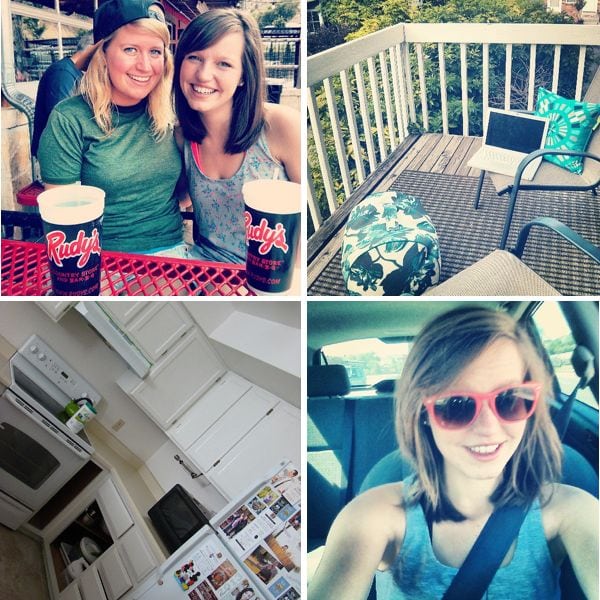 FAVORITE MOMENTS OF THE WEEK:
– cutting off 10 inches of my hair. it feels so light & fluffy!
– painting our kitchen cabinets white! almost done and then i get to put my kitchen back together again.
– target sales on porch furniture so that we can enjoy our back porch now!
– rudy's tradition with my nashville friend while she is in town
– sunshine & rain
– putting together my new window seat
– free chic-fil-a (twice) on cow day!
– sharing dreams & planning vacations with my husband
– realizing how blessed i am
WHAT YOU MAY HAVE MISSED:
review // june conscious box
healthy living // it's all good: meal #2
my style // nights and weekends
deeper // serving in your community
local // brews + bluegrass + banjos
summer savings & giveaway winners
FAVORITE POSTS:
how to be miserable :: chasing happy
a desire to simplify :: in its time
my sixteen year old self :: milk & crown
CURRENTLY CRUSHING ON:
everything
milk & crown
. seriously. i love her blog, her writing style, and her heart! i also adore everything in her new shop and i just bought this
beautiful delicate gold necklace
!! i cannot wait to get it in the mail and take tons of pictures of it. i keep looking down at my neck wishing i had it right now 😉 if you have not hear of this beautiful & talented young lady, i encourage you to check out her blog & say hello! shop around her jewelry shop for a bit. this lady is someone you need to know.
<<<>>>
how was YOUR week?
XOXOX