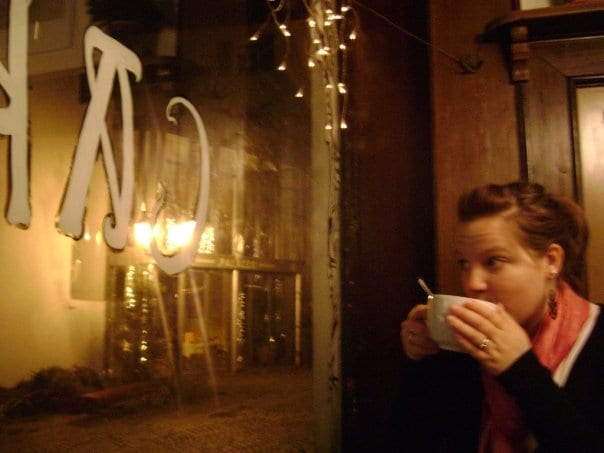 Another palimpsestic encounter occurs in the smack dab middle of suburban America. With the sudden burst of houses logically, came the Starbucks on the corner. A new slate waiting to be written on. Its new clean colors of cream and brown blended in with the stucco surroundings and it became the near by life saver for all the commuting parents gearing up for another 20 hour day. Living in that neighborhood for 15 years longer than most people and the Starbucks itself, I might have been the only one to remember the field that stretched the foothills, leading up to the mountains themselves. The long runs I took my dog on, leading me in circles through the field; they were priceless. That may be where it all began, where my need to go back to that place consumed me.
It was my sophomore year of high school when the Starbucks appeared and I was making the most money I had ever made in my life off my amazing baby sitting skills. With the extra money I quickly made myself into a coffee lover….a trait I hope never to lose. Logically, it became one of my favorite stops.
I just met a friend at this very place the other day. A dear friend of mine. I wrote more stories on the parchment of my life. I don't know how much her life has been written at this place. It may have been her first…or second..or third time in this Starbucks… but it was her first time with me. With each new memory comes new writing. It is like the shake of an etch-a-sketch… but the past drawings never really fade. For in my mind, as I opened the door to Starbucks that day, all my memories began to play.
I looked to my left and saw my best friend in tears, crying about how ever since she got a boyfriend Danielle and I never hung out with her. Oh how that made me mad. It was not my fault she never had time, I should have been the one crying. How selfish I had been then trying to blame it all on her. How embarrassing to look back on my younger, immature self.
With a quick glance ahead I noticed myself walking up to grab my tall white chocolate mocha with raspberry syrup as my boyfriend finishes up paying for our coffee. How nice of him. And with a look out the doors to the right, I see myself laughing with two of my crew counselors. I couldn't believe they made time in their day for me.
Stress was sitting in the corner with finals and ACT study packets. Life talks were on the patio, letting the warmth of the summer sun tan my bare skin. Danielle's car was stuck in a snow bank and after ten minutes of freezing in our not-so-weather-appropriate clothes we retreated to warming ourselves with coffee and calling the boys on in. Hope was standing right next to the window, holding up the cell phone just so to get service. There was talk of a cell phone tower being built; it came after I left for college; I still found myself walking over there to make sure my text message sent. Plans were plotted for wreaking havoc outside the double doors, and also there was lucky, slipping in minutes before 9:00pm, closing time.
All the memories were being played at the same time. Like they were all transposed into one film, lasting only minutes in its entirety. Walking out of the Starbucks, I saw my boyfriend stand up with tears in his eyes and walk out of that place without me. Although I truly believe I loved him, I did what I thought was right. And even though I ended us, I sat there for what seamed like forever, crying, alone.
The original writing is brushed away to make room for the new. Yet traces always remain. I am thankful for that. It makes the new writing richer. It adds character and life. The past never dies, nor does it hold us captive. We are free to write more.