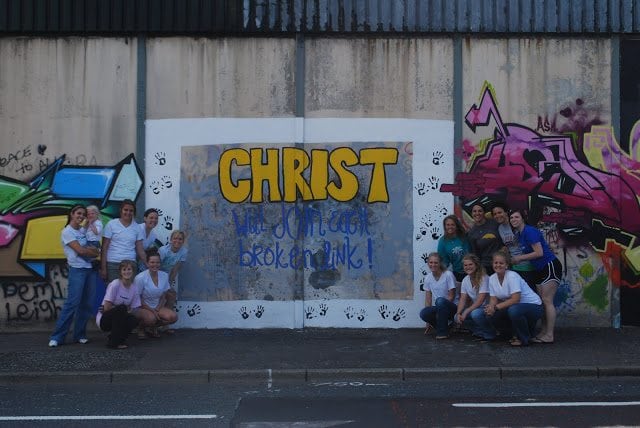 there are some moments you will never forget. moments when there is depth to each action that takes place. the stroke of each paintbrush. the giggle at each joke. the smiles of accomplishment. the joy of just being with each other.  
yes. you can see we painted a wall. but this was more than a sunday school craft, this was us (jbu) leaving a mark. leaving our prayer for the city of belfast. our true heart's desire for the city that we have fallen in love with.   this wall is the peace wall. a famous wall in belfast city that separates catholic nationalists on falls road and the protestant unionists on shankill road. it was built in 1971 and is still standing today. while we have been here we have learned about the troubles in belfast and my heart has just broken for this city. there is so much hurt and death and brokenness left behind because of the troubles. this wall is still up as the communities are trying to rebuild themselves.  
while painting i was talking to billy stevenson. a godly irish man who loves Jesus and loves us. he grew up on shankill road. he lived the troubles. personally. first hand. i asked him if he thought the wall would go down soon. he responded, " not anytime soon, people need to feel safe for that wall to go down…and they do not feel safe."  
our prayer is hope. our prayer is unity. our prayer is that Christ will join each broken link. a moment i will never forget.