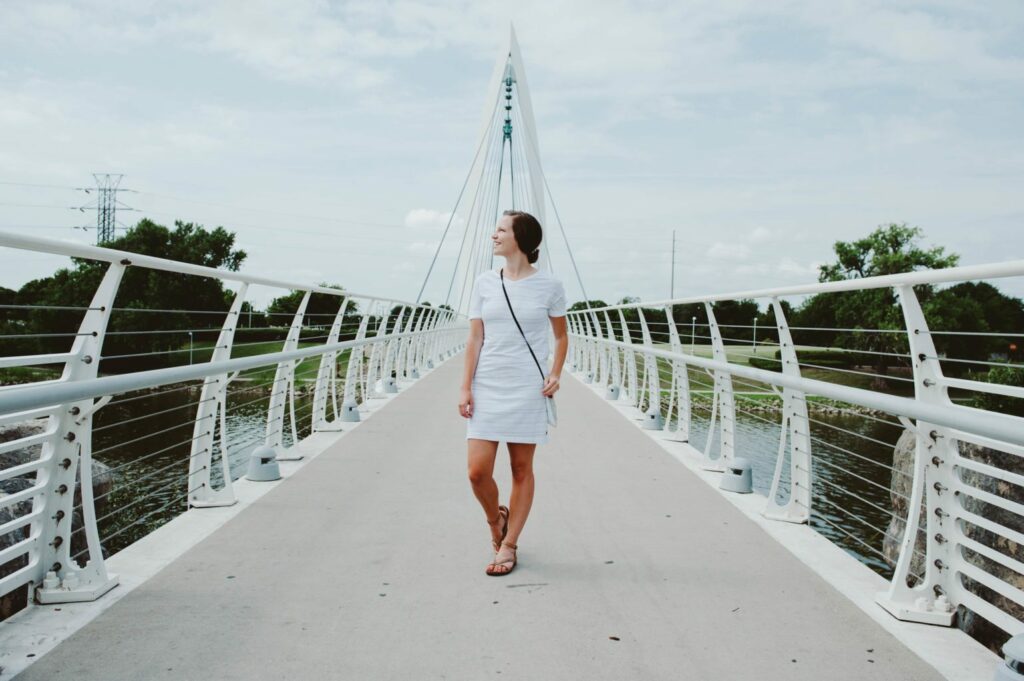 Thank you tasc Performance for sponsoring this post! All content and opinions are my own.
LOCATION: The Keeper of the Plains
OUTFIT DETAILS: tasc Performance Market Dress || Sofia Sandal || Topo Designs Accessory Shoulder Bag
We just got back from a whirlwind of a trip to Wichita, KS this weekend to visit friends. We started our 8 hour drive after work on Thursday (note to self: bad idea) and drove back home to Colorado yesterday. I took waaaay too many photos (is that even a things) so expect more Kansas posts. Believe it or not, Wichita had some pretty fun things to do & to eat – and the people we adventured with were pretty darn incredible.
Kansas is HOT in July. Hot and sticky. Every time I travel to a place with humidity I am shocked! Needless to say, we found ways to stay in the AC as longs as possible. But Mere really wanted to show us (and I wanted to see) some of Wichita's iconic things – like the Keeper of the Plains. We were going to the Exploration Center to play and explore (as the title suggests) which is right near the Keeper of the Plains, so we walked around.
I was wearing my new tasc Performance Market Dress which was a perfect choice! It is so easy to move around in, mega comfortable, cute, and kept me cool (as cool as you can in the Kansas heat 😉 ) I'm all about staying cool and comfortable while traveling and exploring. Cute outfits are a must because of all the photos but also comfortable outfits are required for all the walking, touring, & site seeing. Pretty much this dress is a win-win in my book!
We didn't linger for too long because we were melting, but we snapped some photos, read some signs, and walked by the river. It is fun to see the Arkansas river in other states (we've rafted it several times in Colorado) – its' fun to think that the water travels so far and so fast.
PS: You can only see John's foot in like one photo but I promise he was there too! hahaha.