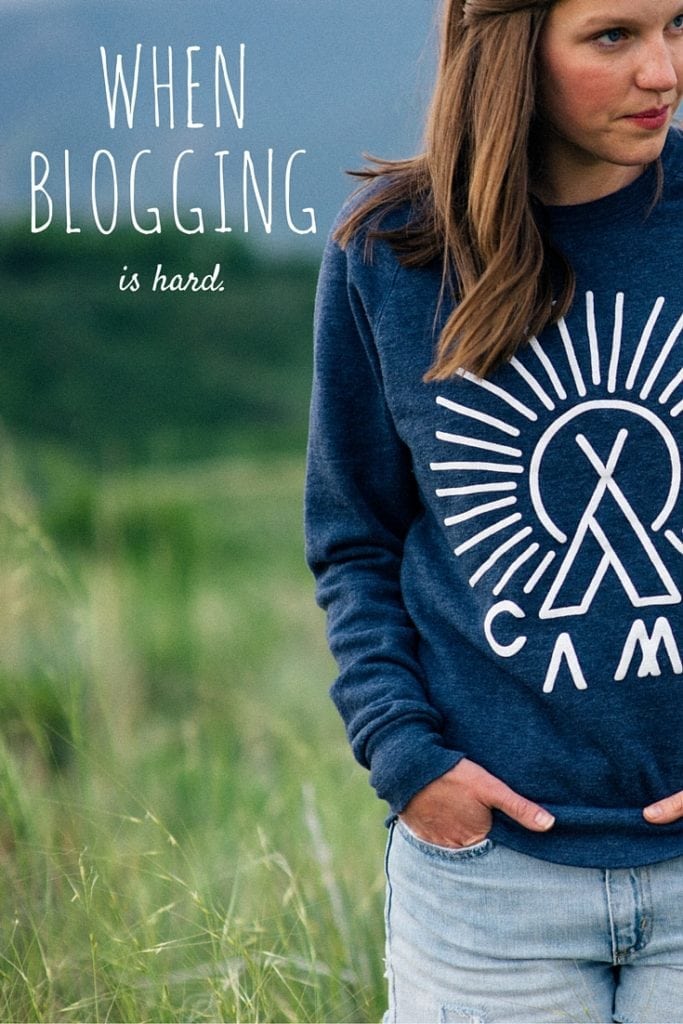 There are so many benefits and joys to being a blogger. I love the challenge and thrill of learning, growing, stretching, writing, sharing, photographing, and posting. But there is a hard side. Just like there are many joys, there may be many aches – the comparison, the disappointment, the not pleasing everyone, the consistent push for more and for better. I guess even writing this post is one of the hard things about blogging because the thing that I find the hardest right now is authenticity.
AUTHENTICITY on the internet, in front of your eyes. One of the key values and deepest desires of my heart is to be authentic. To share my stories and to listen to others. To be a place of hope, of peace, of trust. Where life is real and messy but God is good and faithful.
But where is that line? That line between sharing my story and sharing others stories. Because yes, I want you to know my life is not perfect.  Currently my Christmas decorations are all up and pretty (you may have seen them on my instagram) but my kitchen is still a mess from dinner the other night and I frankly am too tired to clean it up. I am tired because I turn to worry instead of trust and lay in bed at night unable to turn my mind off. I am tried because I've had to give up sleep and plans to watch my wonderful and energetic nieces and nephews and I question my ability to ever be a good mother to my own kids one day. I am tired because other peoples choices and actions affect me whether they want to or realize. I am tired because the world is hard, work is demanding, and I am not perfect.
I can share that with you. My experience on this side of things but I can't be as open with you as I would if I was sitting down to coffee with you. And even so, not all my coffee date friends can know the completly workings of my life (but believe me you need people to talk to. That is why community is SO important and that group of people I meet with every week get to hear me cry and process and seek and rejoice every week are so valuable.)
I don't know if you have felt distant from me. I don't know if you have noticed a change in the tone of my posts and possibly the suffocation of superficial posts. I wasn't trying to edge you on on purpose. I wasn't trying to be a sell out. I never want to step away from the things that I value most here on this blog – Jesus, Healthily Living, Trust, and Authenticity. But these last months have been hard – for many reasons. If you read my December goals, you would have caught some of the things November surprised me with but it has been a time of the Lord really whispering to my heart and asking me "Is your value really in this? Or this? The things of the earth that our fading away? Why not Me? Please Beth, choose Me."
Sweet friends. Life is not perfect but our sweet Savior is! He really is. He is good when there is nothing good in me. He hope even in my wandering. He is the solid foundation – the rock to which I cling.
So blogging in hard when I have to reflect my imperfections. It is hard when life is hard. It is hard because I want to invite you in but I need to protect the stories of those around me – not everything is meant to be shared over the internet. But we can still connect. We can share our struggles and unite in prayer. and we can still be authentic. Please know I am human just like you, my heart breaks in this broken world as I am sure yours does as well. I am not perfect and I don't need to be (and neither do you!)
But he said to me, "My grace is sufficient for you, for my power is made perfect in weakness." Therefore I will boast all the more gladly about my weaknesses, so that Christ's power may rest on me. – 2 Corinthians 12:9
xoxo, elizabeth