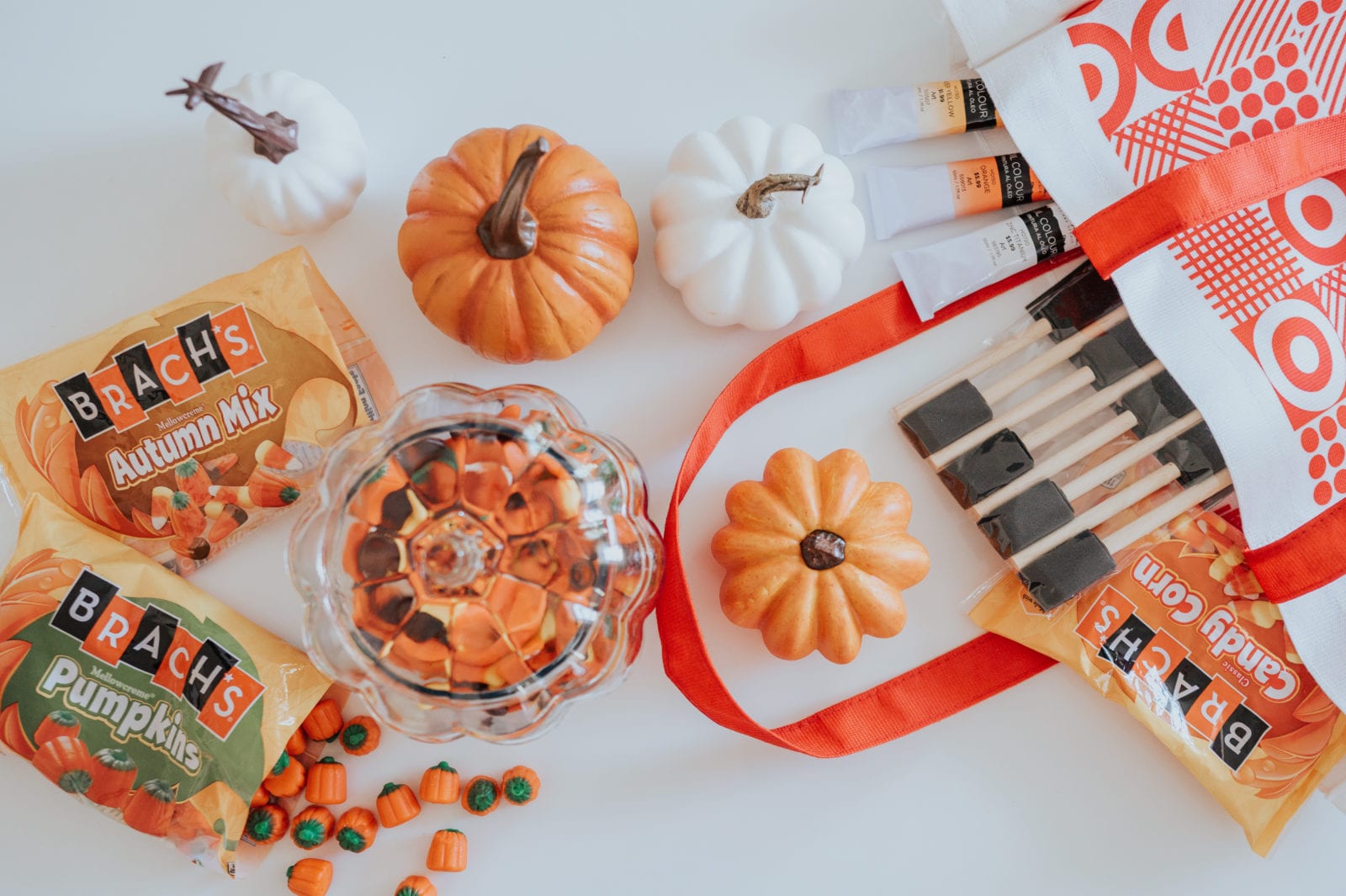 This post has been sponsored by Brach's. All thoughts and opinions are my own.
Once the calendar hits September, I am in full out holiday mode the rest of the year. While I love each season, Autumn gives me a boost of excitement that carries on throughout the year. We joke that January is one of our least favorite months but now we have a baby girl coming that month to continue the celebrating (I LOVE birthdays!)
Starting off the holiday season is Halloween and what would Halloween be without Brach's Candy Corn! I saw them out on the shelves at Target and had to add them to my cart. In all seriousness, I have never celebrated this holiday without buying at least one bag of Brach's Candy Corn (but probably more!) While the Pumpkins are my favorite, the classic is so nostalgic, and the Autumn Mix makes my candy bowl look good because of the variety!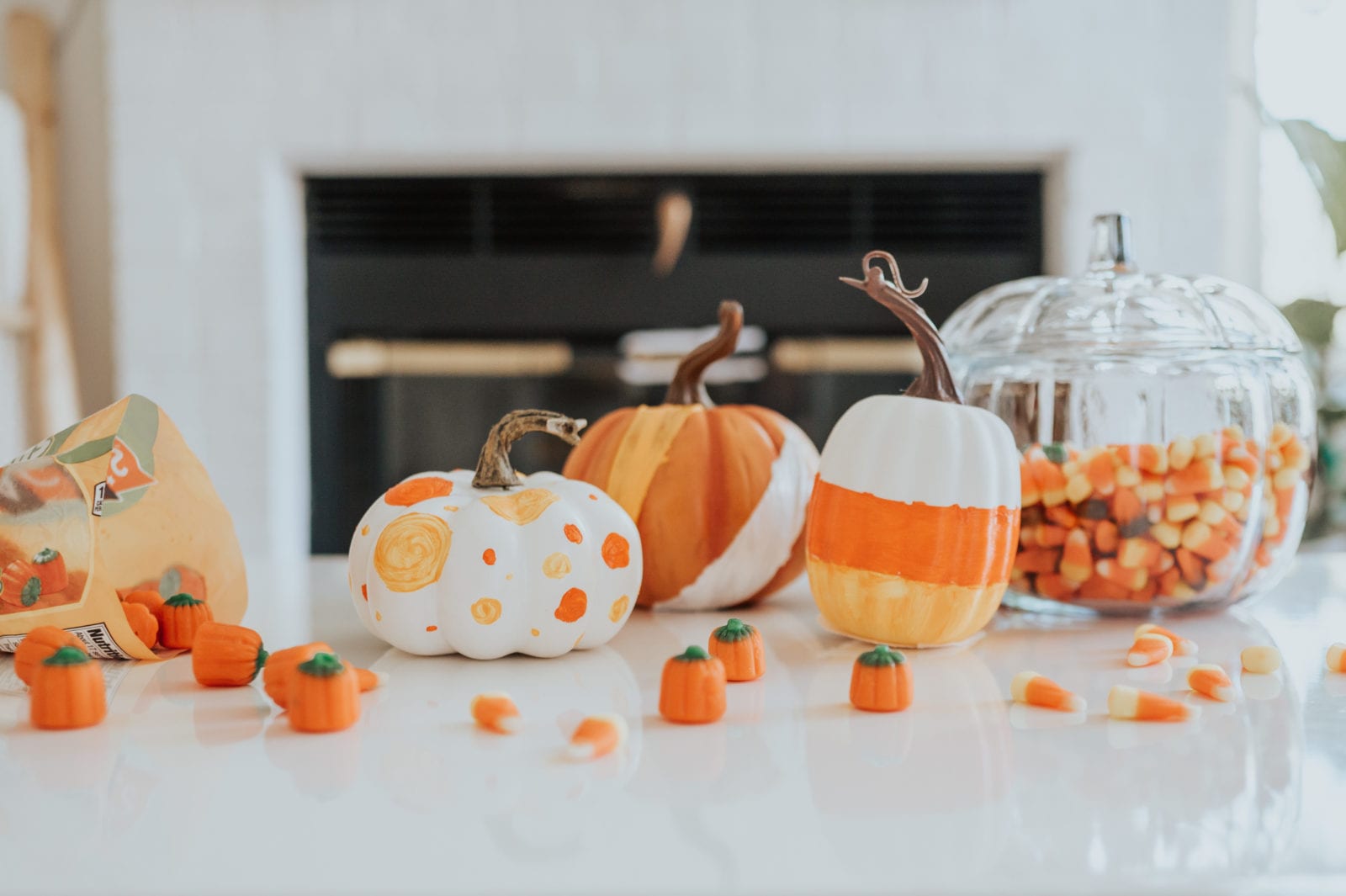 Sometimes during nap-time I feel a little crafty and this project is from one of those times! Don't stress about carving pumpkins this year, paint them! And using our favorite nostalgic Halloween candy, go candy corn themed like me! This would be a great craft to do with or without kids (depending on how old they are) and can take as long or as short of time as you would like! My husband always makes fun of my shorter attention span when it comes to crafts – I am an enneagram 7, what else do you expect?! I know my little sister would spend hours painting pumpkins with intricate designs, but if you are more like me, you can create a fun candy corn inspired pumpkin in less than 30 minutes and have fun while doing it!
WHAT YOU NEED:
Pumpkins (can be real or fake!)
Paint (go with acrylic or tempera) in Yellow, White, and Orange.
Brushes
Brach's Candy Corn (to be your guide!)
Tape
*Tip: The pumpkins and candy corn can be found in the holiday section at Target. The paint, brushes, and tape can be found in the art/office area!
HOW TO:
Gather up all the supplies.
Eat some Candy Corn for inspiration 😉
Using the tape, tape off a section of the pumpkin making sure to get the tape into all the groves. Remember white is on top, orange in the middle, and yellow on the bottom. So if you are starting with an orange pumpkin, plan to use the yellow and white paint on top and bottom. If you are using a white pumpkin (like me) than tape off an area for the orange and then add the yellow.
Put aside to dry.
Have fun! I used the paints to add some other designs that were candy corn inspired to go with my candy corn pumpkin! I like a little variety.
*Tip: If you want to make polka dots like I did, use a cotton swab to make the dots! It is SO easy that way!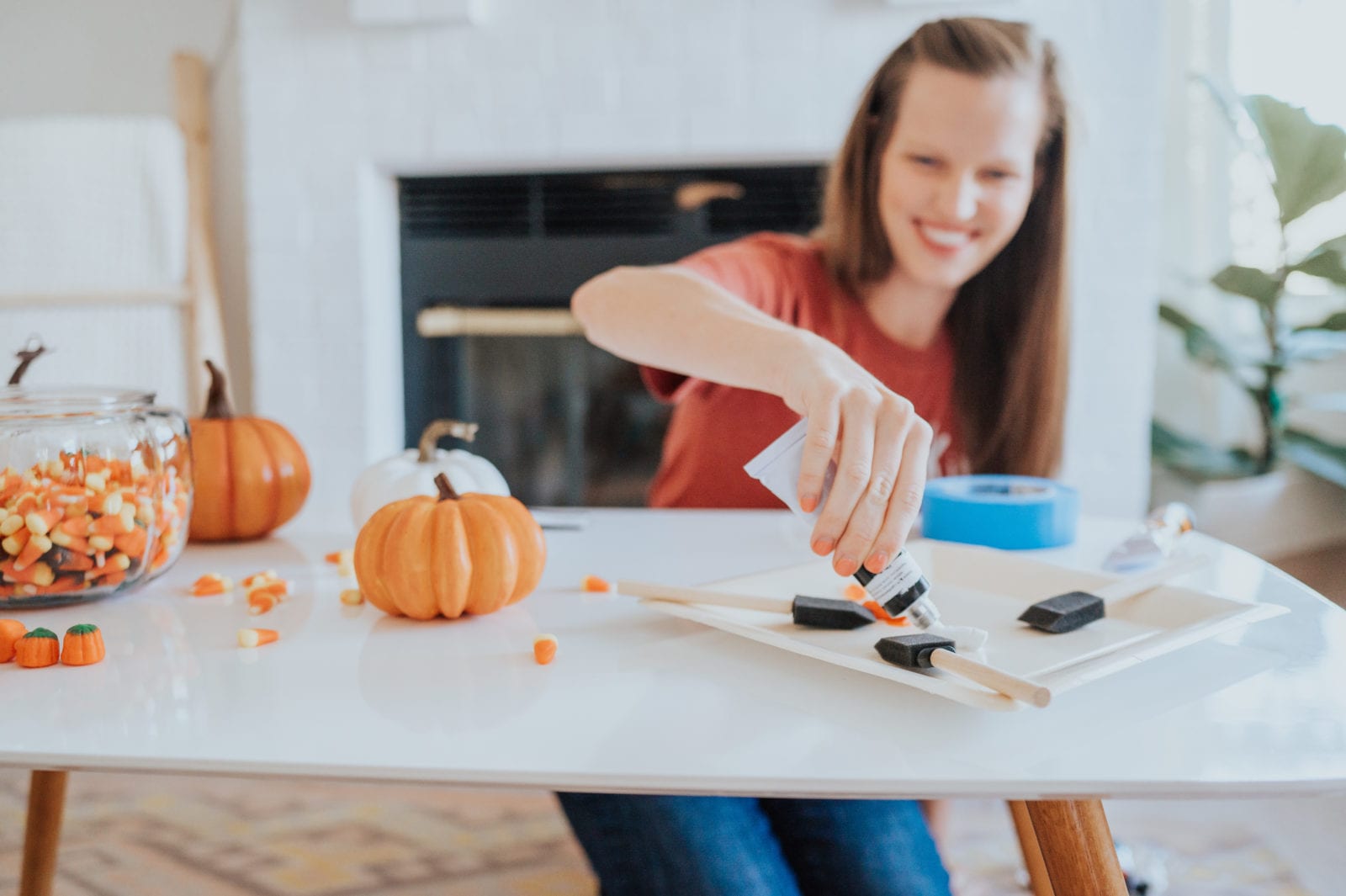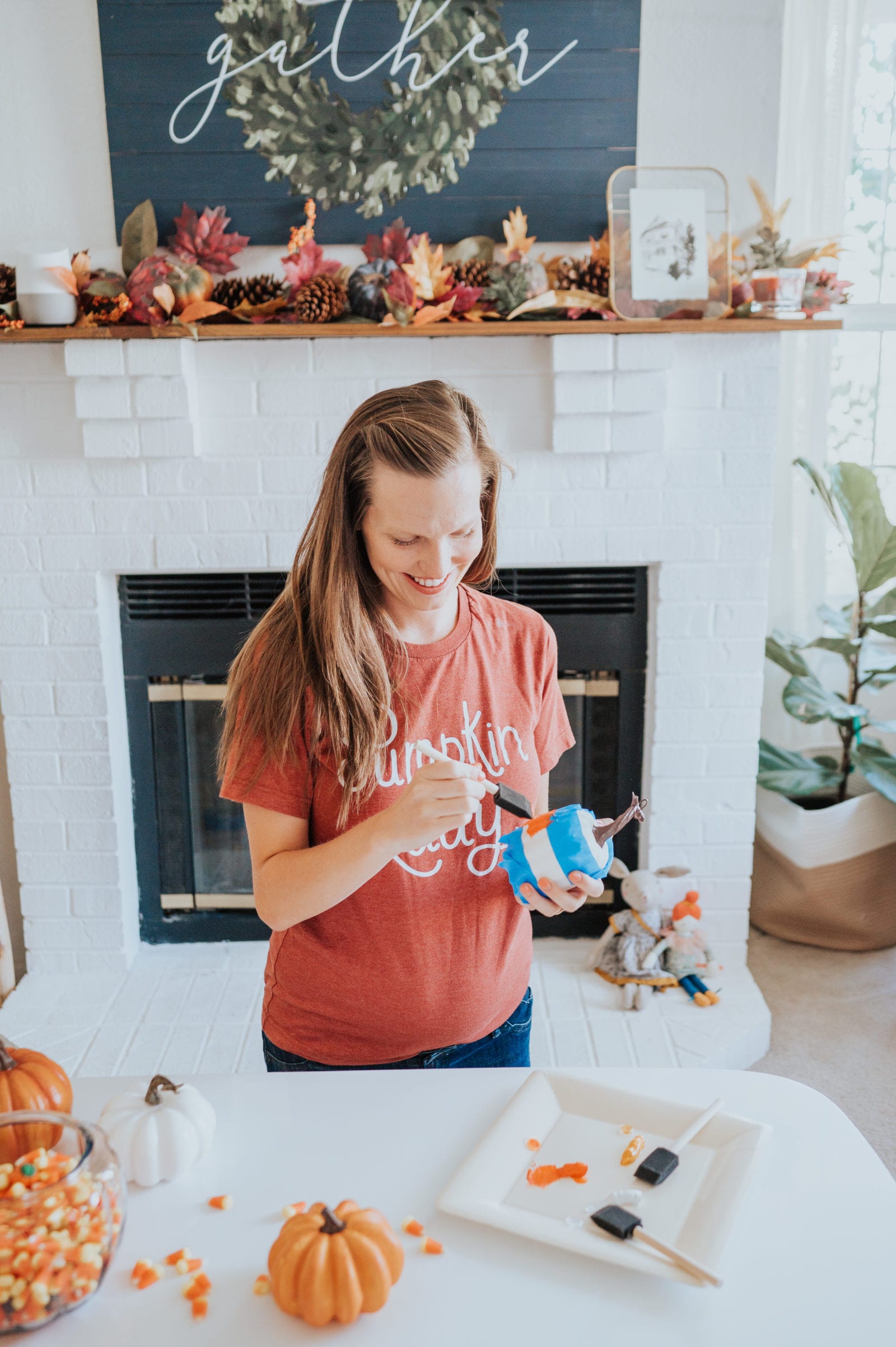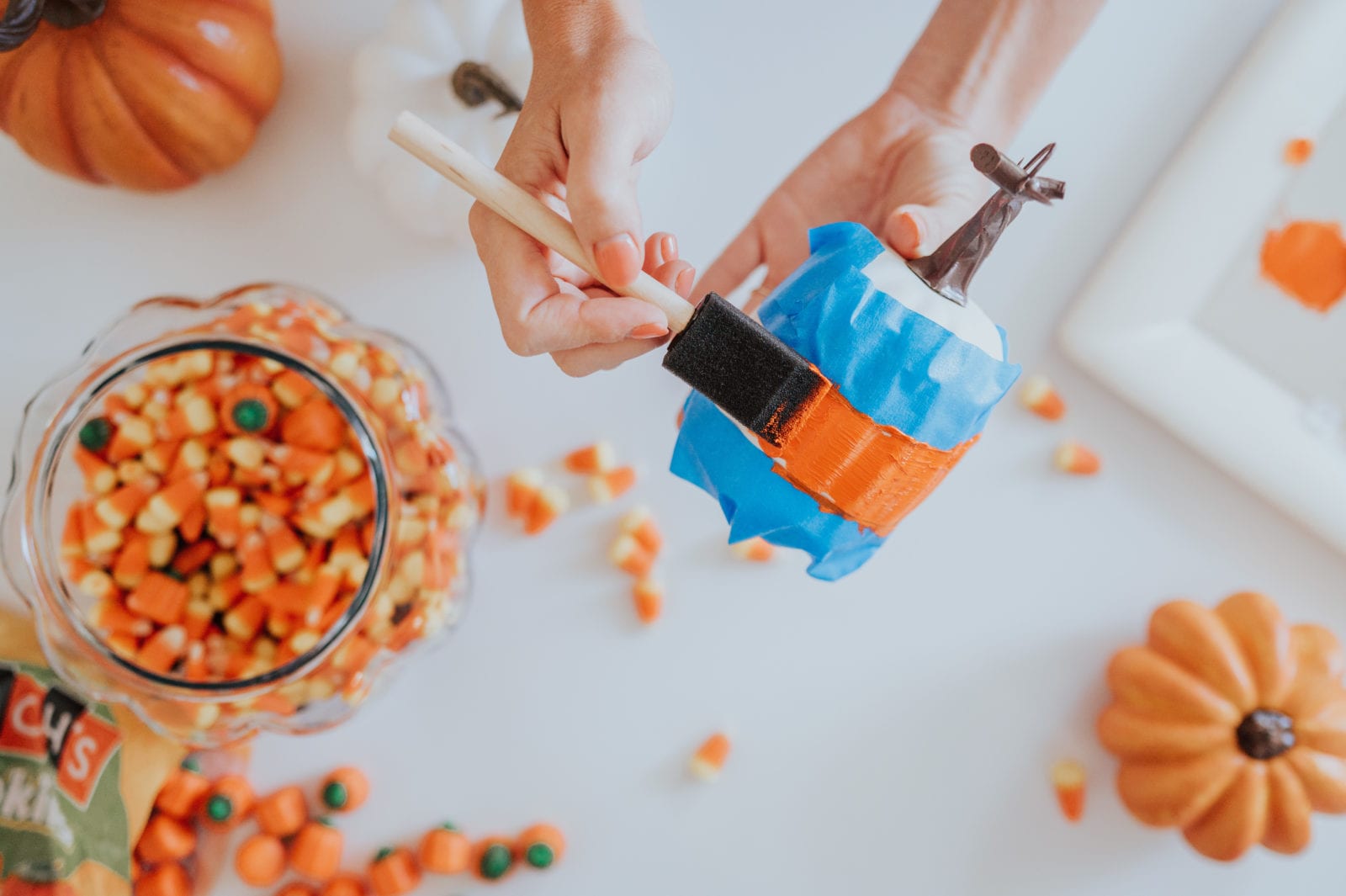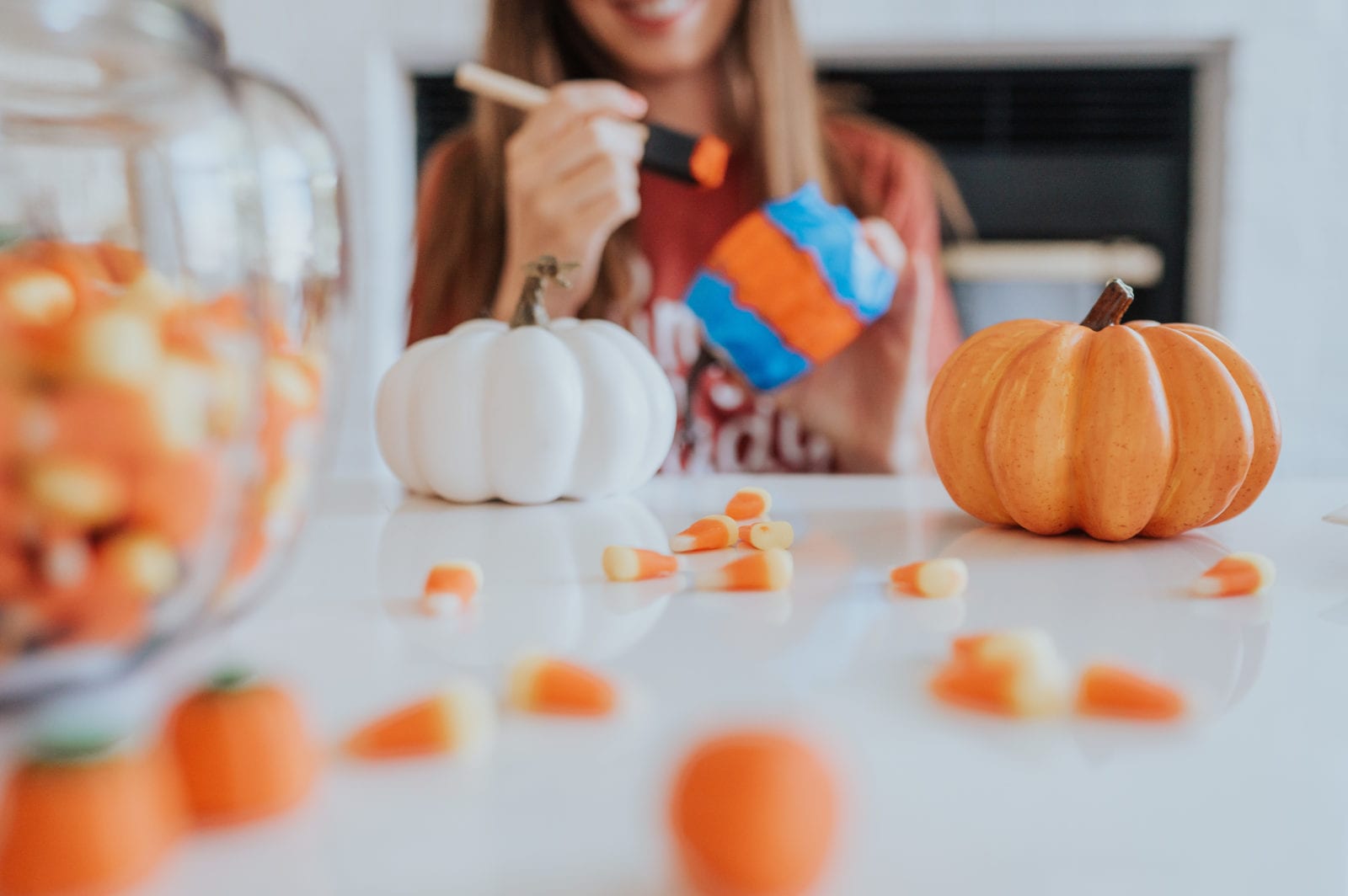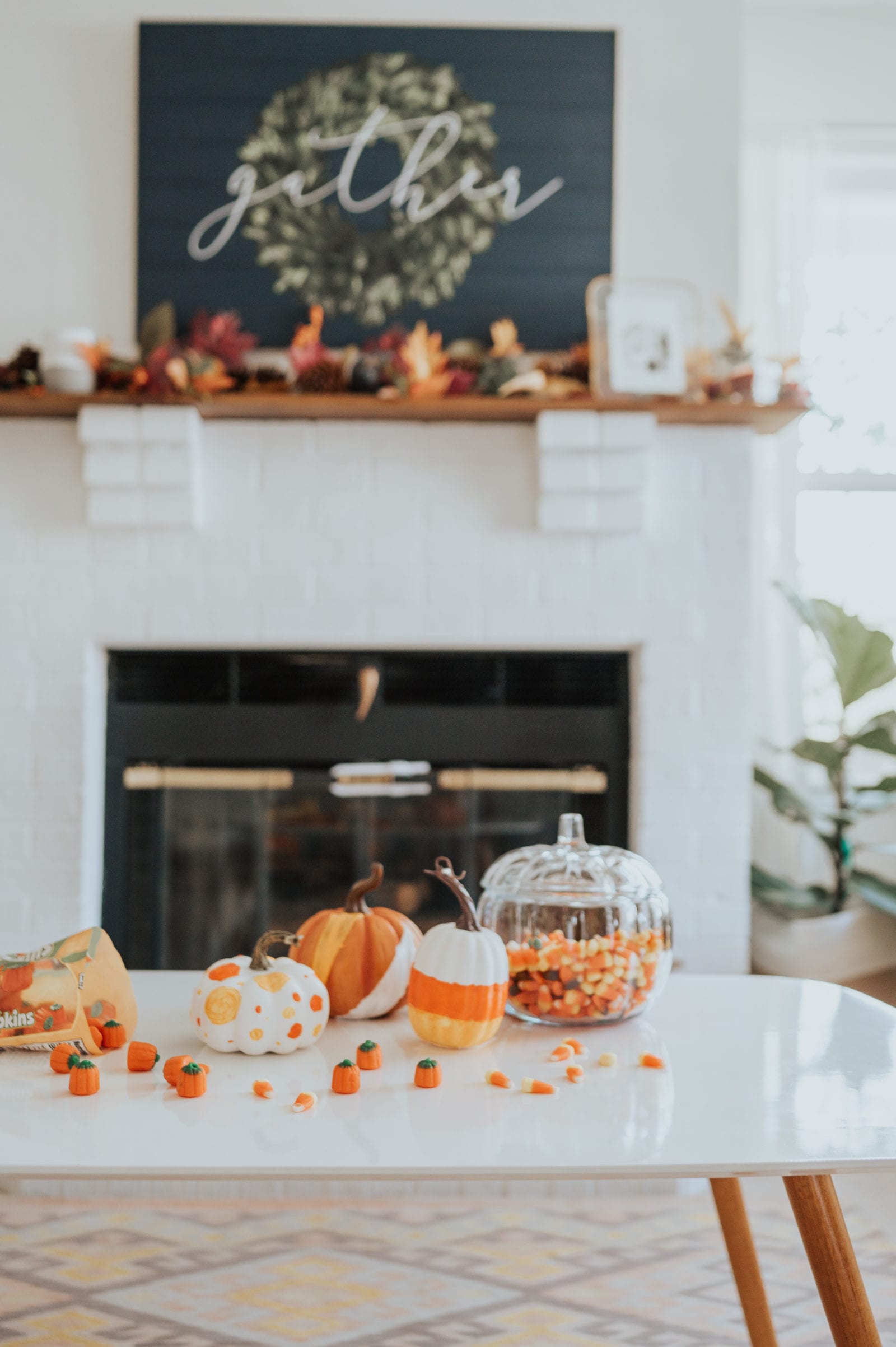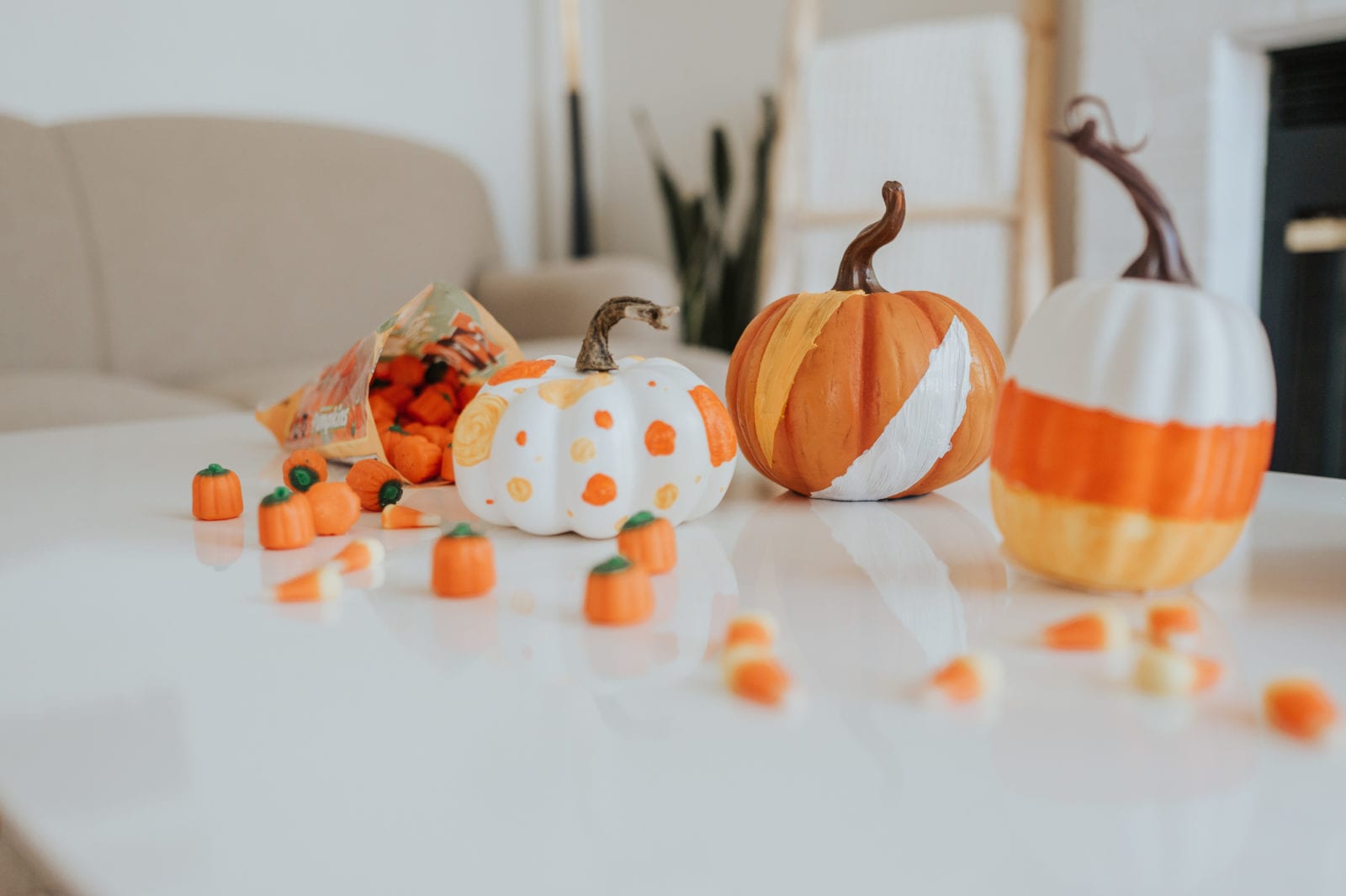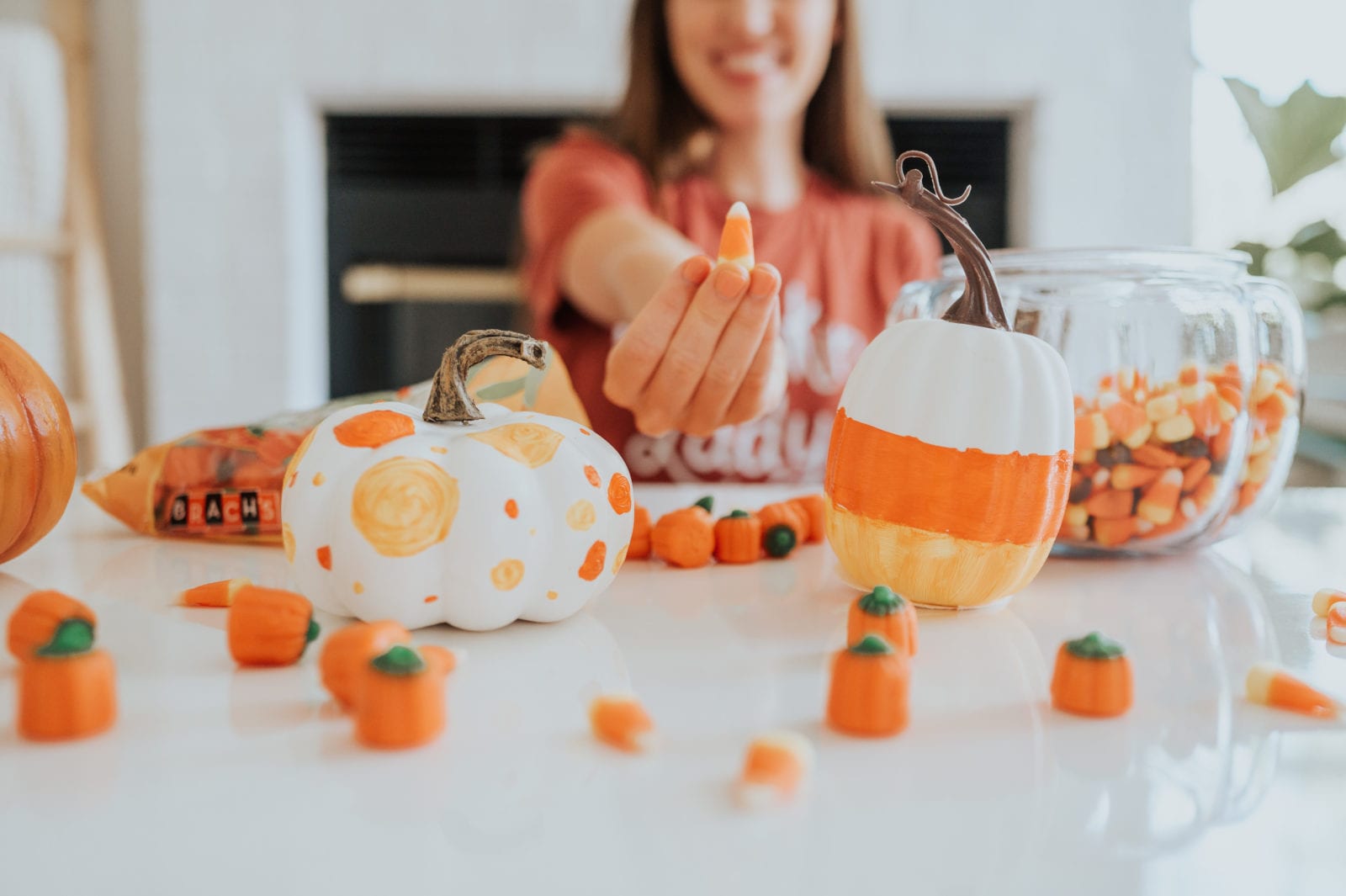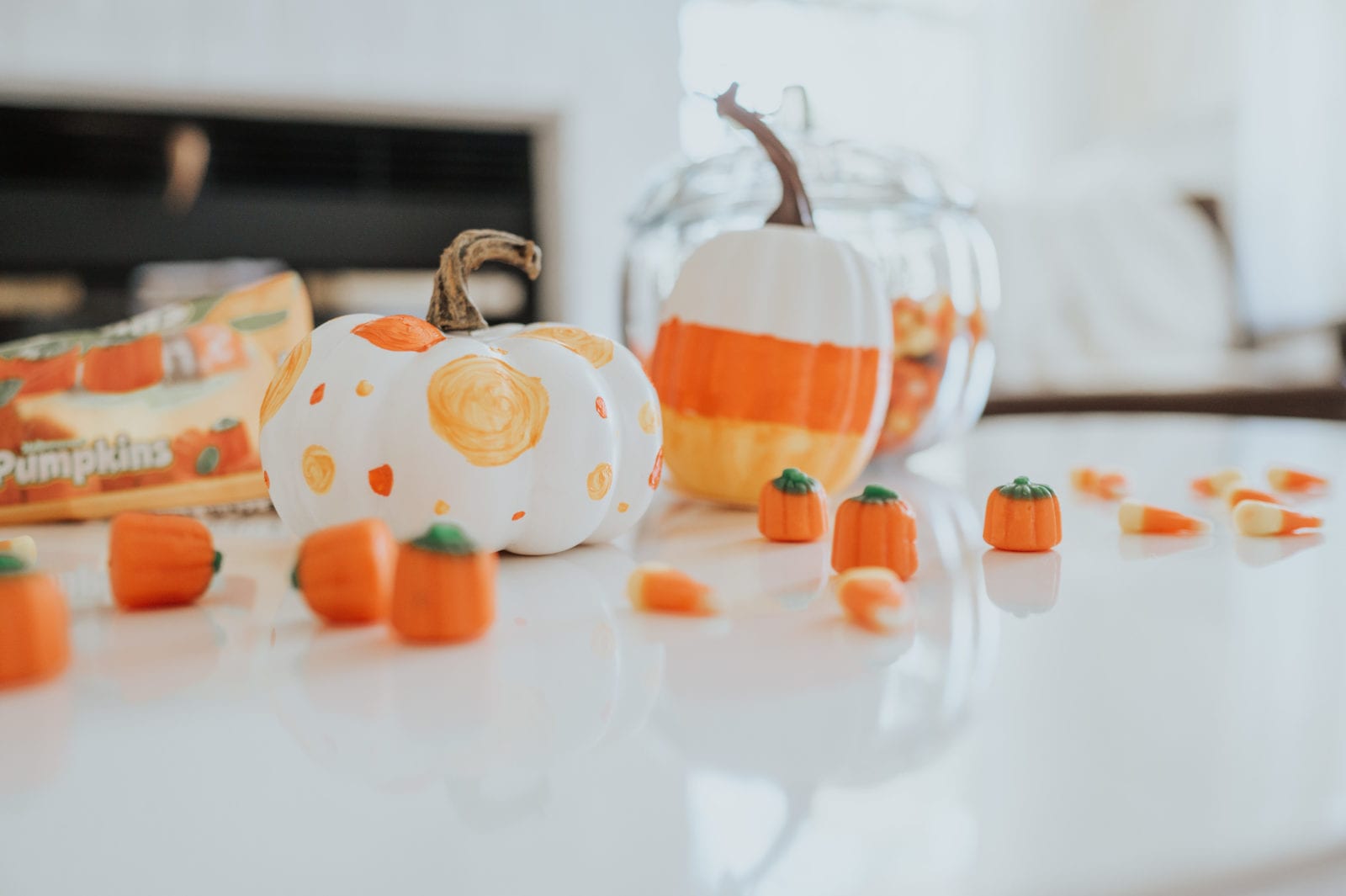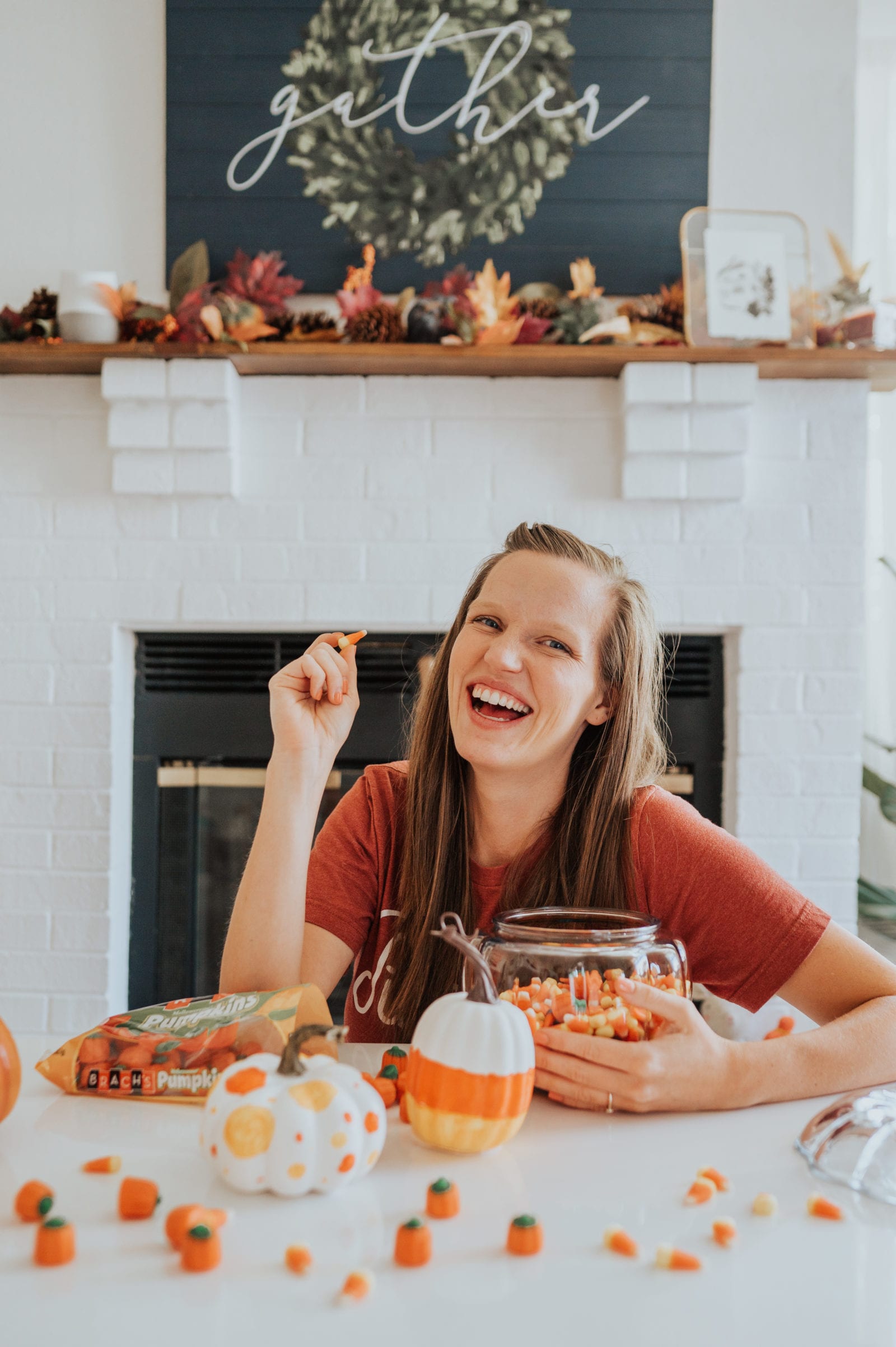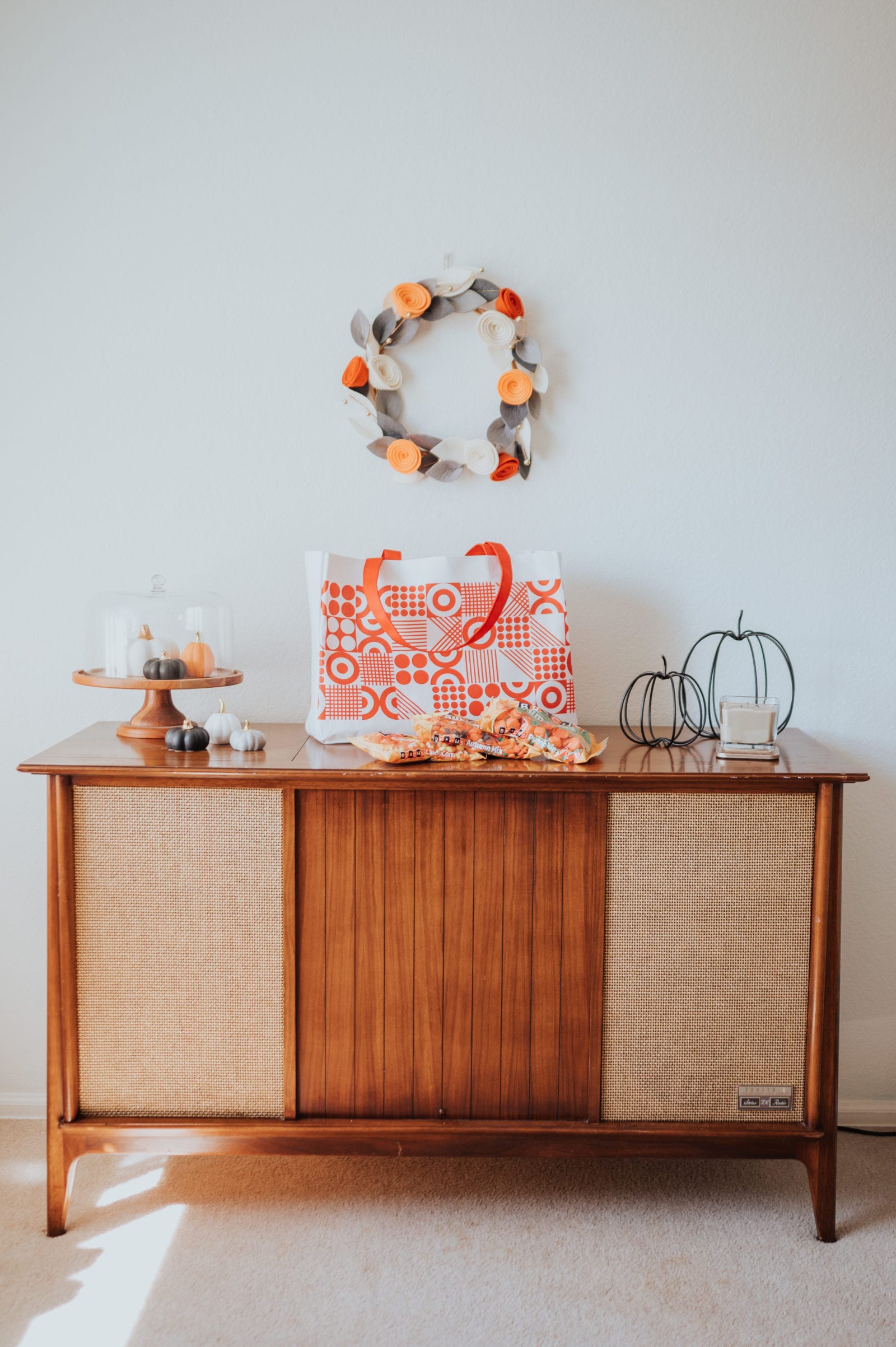 Have you ever forgone carving for painting your pumpkins? It's really fun and just as festive without being so hard. I still may make Bruce carve a pumpkin for us this year but I am not into stabbing thick pumpkins with knives in an attempt to create something pretty! lol. This is festive while being super attainable. And of course, you cannot have Halloween without the candy corn! #momentmade, #madetoshare #breakoutthebrachs