Father's Day is coming up this Sunday June 15th and I don't want us to forget it! Some of us have wonderful relationships with our fathers and other of us would use different adjectives to describe that relationship but no matter what, I think it is a time to acknowledge the fathers (or father figures) in our lives. Here are some fun gift ideas for your father, your husband, your uncle, your neighbor, your grandpa (etc)!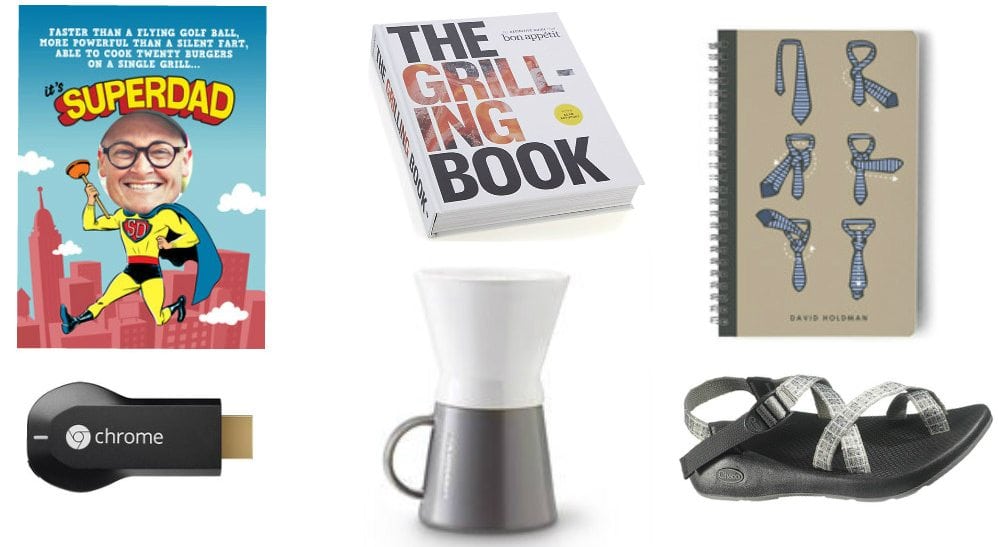 1 // Super Dad Card from Cardstore: I am a sucker for a good card. There is nothing like a perfectly picked out card filled with your own words. I keep every card I get and I know my dad has a pile of them too. Write a Card and fill it with your heart.
2// The Grilling Book from Crate & Barrel: Dads love grills and outdoors food. I love this (pretty) grill book that is manly enough for your man and also cute enough for your side table!
3// Minted Tie Journal: Some men love to journal (my dad is one of them!) or just love something on their desk to jot down all their ideas! I love this fun tie journal and it makes me what to learn how to tie a tie!
4// Chromecast: I love this little device that just plugs into your TV and allows for streaming from your phone or computer. Now dad can watch all his Netflix shows & youtube videos just by an app on his phone!
5// Pour Over Brewer & Mug Set from Starbucks: This gift is for the coffee lover in your life. I love the sleek look and the all in one action. It is that shampoo/ conditioner/ bodywash stuff that men love – all in one!
6// Chacos: A new pair of hiking sandals is perfect for the summer months! Think of all the hikes, zoo trips, vacations, downtowns, and sidewalks you will walk on. A new pair of chacos is a fun and practical gift!
I do not know if you have already seen the Father's Day video of the year that Dove put out but you must watch it. I cried big, fat, tears. The kind that roll down your face and drip onto your shirt. Mother's have such a beautiful role in this world but Father's have a unique and wonderful role as well!
Watching this video, I cannot help but see my siblings and I running to the door when my dad got home, seeing him teach me how to ride a bike, calling him when I got in my first fender bender, walking with Him down the wedding isle, and hearing him pronounce Bruce & I as husband and wife.
I am so thankful for my daddy this Father's Day and for Bruce's daddy who raised him so well. What a day to honor the ones who have been shaping and molding us our whole lives!
DID YOU GET A FATHERS DAY GIFT YET?