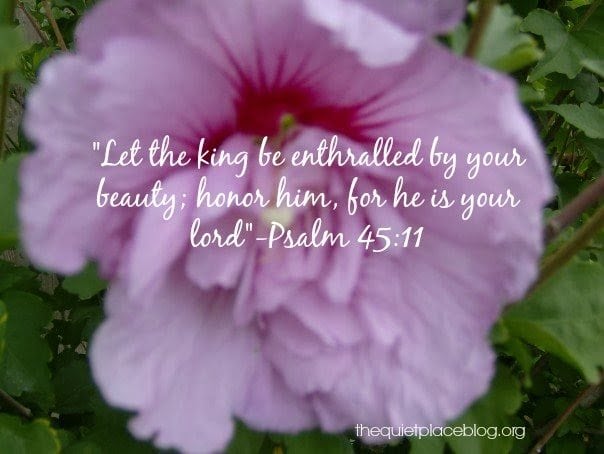 "Let the king be enthralled by your beauty; honor him, for he is your lord"
Psalm 45:11
Hello! I am Britney and I am stopping by from The Quiet Place. The Quiet Place is a place to be encourages, refreshed, and renewed – we would love it for you to stop by! This verse reminds us that God is enthralled by our beauty, not just our physical beauty but our inward beauty as well. God tells us throughout the bible that beauty is not found in our appearance but in our heart, as we as women strive to seek him daily.
To the world beauty is found in our appearance and how we look, but God tells us something different in Proverbs 31:30,"Charm is deceptive, and beauty is fleeting; but a woman who fears the Lord is to be praised", this verse reminds us that beauty is found in a women who seeks God and not the ways of this world.
To me beauty is found in the bright colors of the sun when it sets at the end of a long summer day and in the pages of scripture that i read every night before I go to bed. Beauty is also found in that place of rest, that place of light where God meets you when you feel like your in the darkness. Sisters, let the words of Psalm 45:11 resonate in your heart, never forget that he is enthralled by your beauty every single day.

What is beauty to YOU?
A LITTLE ABOUT THE AUTHOR:
Hi my name is Britney and i am one of the founders of the Quiet Place which is a blog with the mission: encouraging women to find rest in God. I love Jesus, the color pink, and i am currently a Grad student studying to become a Licensed Professional Counselor. Connect with me here: Blog| Facebook| Twitter| Pinterest| Instagram| Blog Lovin'