there are three types of Christmas tree people in this world: those who have themed & perfectly placed trees, those who have trees filled with old ornaments, craft projects, and hodge-podge-ness, and those who have two trees (one for each). i have the second (mostly because i cannot afford two yet ;)) and i love my crafty, messy, random tree! my tree holds so many memories. ornaments from my childhood, bruce's childhood, and our life together! i could never be solely a "perfect" tree person because i have too many ornament traditions.
FUN ORNAMENT TRADITIONS:
1. our own stashes: growing up each kid got one ornament that represented that year. we collected all our ornaments in boxes and it was our job to put them on and off the tree. when we grew up and moved out we got to keep our box. thank goodness for 25 years of ornaments and childhood crafts to decorate my tree!
2. Hallmark Keepsake Ornaments: when Bruce and i got married last summer i wanted to make sure we started some traditions of our own. we decided that getting a keepsake ornament that represented the family each year would be fun! they also come in cute little boxes with dates already on them. last year we got one from Harry Potter…. this year we will too (don't tell Bruce!).
3. ornament swaps: i love any secret santa, white elephant, gift exchange out there! i think they are so fun! everyone brings something, things get stolen, and then everyone leaves with something. needless to say i love getting involved in ornament swaps!
4. diy crazed: i also just love making new things! i have a DIY tree garland that i made this year that i will share here on Oak + Oats soon and lots of other things on the tree were crafted. bruce brought these gingerbread people he made when he was little into our relationship and they hang on our tree. crafts are fun when you are a kid and when you are an adult! they are even funner (*not a word) to hang on a tree!
5. great gifts: i love ornaments as gifts. last year a friend got me the starbucks mug ornament (best!) and meg gave bruce and i wonderful zoo animals because we love the zoo! ornament gifts are so personal because you cannot help but pick out something personal! i love Jess Vartanian's custom map ornaments because you can pick a place that means something to the both of you. like where you went to college, or met, or got engaged, or live, or grew up….. gift idea!! and use code: OATSGIFTGUIDE2013 for 10% off your purchase!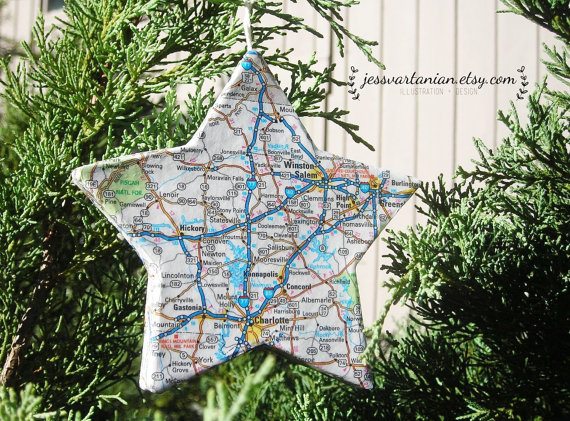 how do you do ornaments/ Christmas trees in your family?