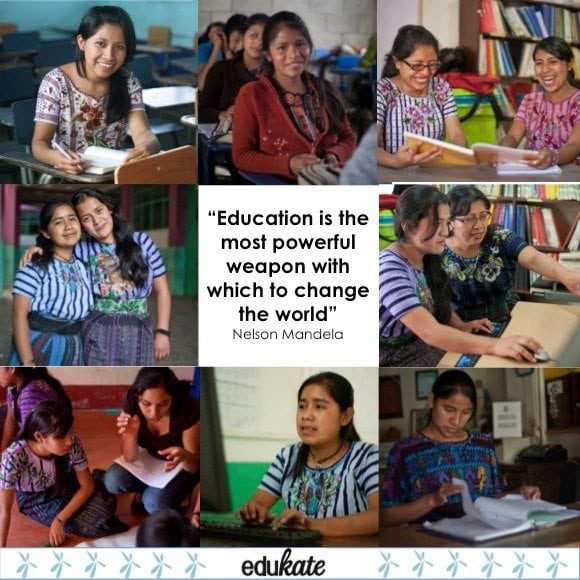 1. Tell us a little bit about EduKate
So the elevator pitch version of what EduKate is is…. EduKate is a socially conscious business that sells USA made accessories. Profits from our product sales go to support the empowerment and education of girls globally. Currently profits support girls in Guatemala through the non-profit Starfish One By One, girls in Tanzania through the Kisa program within the non-profit AfricAid and girls in Cambodia through the GATE program within the non-profit Lotus Outreach International. Our products are all made locally in order to create empowering work environments for women in the USA. We strive to empower girls internationally and women locally.
But on a more personal level EduKate is my passion, it is my dream, it is the entity that marries so many of my beliefs together. Whether I was attending my all girls high school, a summer camp counselor at an all girls camp or advocating for girls education, girls empowerment has been a theme in my life. So in a sense I knew that in some form or fashion I would be working within the field of girls empowerment. But I didn't just want to work in this field, I wanted to gather a community of women who shared this belief and I wanted to connect them to ways they could help. At the same time I saw the massive success of TOMS shoes, yes I found their trend setting impressive but what I found more striking was their ability to educate the public/ consumers on their cause. They use the market place to create a community of people who believe in giving shoes to those who need them. I wanted to use the market place as a tool to educate the public as well. In addition, as a conscious consumer I thought it was important to have a product that reflected social practices. I believe in buying locally/ USA made products because 1) they are more environmentally sustainable 2) they help our local economy by creating jobs and 3) often the quality is higher. Okay the last and probably most important reason EduKate was created was because I believe educating girls is the foundation for creating positive change in our global community. There are thousands of global issues that tug at my heartstrings but I believe so deeply that education is the foundation for addressing hundreds of those issues. And the population that needs to be supported to have access to education is girls because over 70% of out of school children are female. Their are 77.6 million out of school females globally, in my mind that is 77.6 million solutions. I could go on and on about this topic but I degrees. Does that cover the questions???
2. What are some exciting holiday things coming up in the store?
We have some really exciting things in the works for the holidays. EduKate is releasing a new special edition collections for the holidays. Here are the basics of it….
A Limited Edition Collection means we are manufacturing a small run of each one of our new products all in the same pattern and color.
The three collection products we are launching this holiday are a small cylinder cosmetic bag (The Honor Roll Cosmetic), a overnight cosmetic bag (haven't finalized the name) and then a cross body handbag (The Renee).
For the Holiday Limited Edition the color will be blue and the products will be in our Compass Flower pattern.
We are only manufacturing 80 of each of the cosmetic bags and 50 of "The Renee's" so their is limited opportunity to own these products.
Buy to Give products – all three products are made in Colorado by an all women's manufacture…. the profits from the products go to support the scholarship and mentorship of girls in Guatemala, Tanzania and Cambodia.
When someone purchases these limited products they will receive an up to date email with a little bit about the girl they have supported.
3. What's your favorite part about working for EduKate?
My favorite part of EduKate is that I get to purse my dreams and passion. I feel so fortunate that I have had the incredible opportunity to have a priceless education, and now I get to pass that on/ support other girls around the world to have the same opportunity to education.
4. What inspires you the most?
When I have the opportunity to witness development in action when I visit the programs we work with my passion is fueled and my heart is filled. I just recently returned from Guatemala where I was visiting the 35 girls we sponsor to attend school and participate in a mentorship program. I feel like I came back with 35 more heroes. Every single one of the girls inspires me. They are so driven to utilize this opportunity to the fullest so they can help their families and communities. The knowledge they gain spreads to their families like wildfire. Every girls provides such hope for their families because they are the future for them and they are the key to breaking the cycle of poverty.