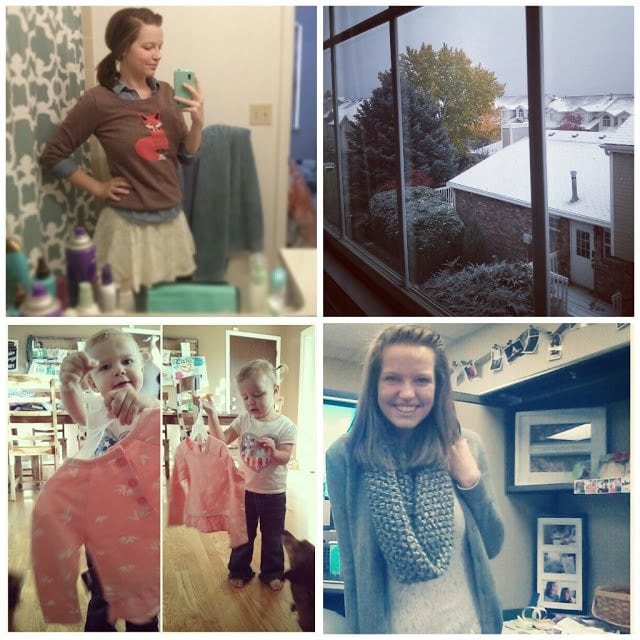 FAVORITE MOMENTS:
– snow!!!
– my favorite clothing options with LOTS OF LAYERS!
– shopping with my two sister-in-laws and my littlest niece. she is a little fashionista!
– moving into my new office at work
– making apple cider donuts with sweet friends
WHAT YOU MAY HAVE MISSED:
chunky + comfy
October crafting
CURRENTLY CRUSHING ON:
The Great Christmas Exchange! the Colorado snow furies and chunky sweaters, socks, and scarves have me craving the holidays. i may have sneaked one or two Christmas jam sessions in already this year. i have teamed up with the sweet Samantha of
Elah Tree
to bring you one exciting big game of secret Santa because we know how fun it is to give & receive!
The Great Christmas Exchange
we've been dreaming up this little project for a while now, working together behind the scenes to hammer out the details and put together something that everyone will enjoy and get to participate in.
The Great Christmas Exchange is an opportunity to meet new bloggers, readers, and friends; get to know them and give a gift! This is doubly exciting – you get to give a gift & receive a gift. gotta love the holidays!
Everyone! This is not a closed exchange! Anyone can participate. Bloggers, readers, your mom, your sister, you name it, you're in! This exchange is also open internationally. Participants will be matched within their own country.
11/18: Make sure to sign up by November 18th! The exchange will close on that day.
11/25: We will email your assignment/partner to you on November 25th. If you have not received your assignment by 11/26 email me.
12/16: You have three weeks to shop and get you package in the mail. Make sure to ship by December 16th.
1/7: Enjoy your Christmas Break! Samantha and I will have a link up ready on January 7th for you sweet bloggers to link up your exchange!
Let's keep the gifts around $20. If you are feeling overly generous than go for it, but please don't expect anyone to go over $20.
I hope you are just as excited as we are! Please let us know if we have any questions. And Don't forget to grab a button and tell all your friends!