when i started this whole30 a couple weeks back, i was overwhelmed with how encouraging people have been. i honestly expected more people to give us a hard time for going on a diet but the majority of people are really interested in hearing the health benefits of this dino diet and wanting recipes from the things i am making.
when you are me and people start asking you for recipes – it means you have changed! it is true. i never used to cook before this all started and even if i did make something, you would never ask me for the recipe. PEOPLE CAHNGE. and what a blessing that is. we can change and grow and learn and try new things. and during this quest for healthy living, i have discovered a cook in me that i never knew existed.
but just because i have discovered a whole new joy of cooking DOES NOT mean that A) i have all the time in the world or B) even if i did, i would want to spend it all on cooking! i knew going into this dino diet that coming up with meals to bring to work with me everyday was going to be one of the hardest parts. i didn't want to spend every evening making dinner and then a lunch for tomorrow. i finally pulled out the crockpot that has been sitting in the food pantry since our wedding and began creating my lunches.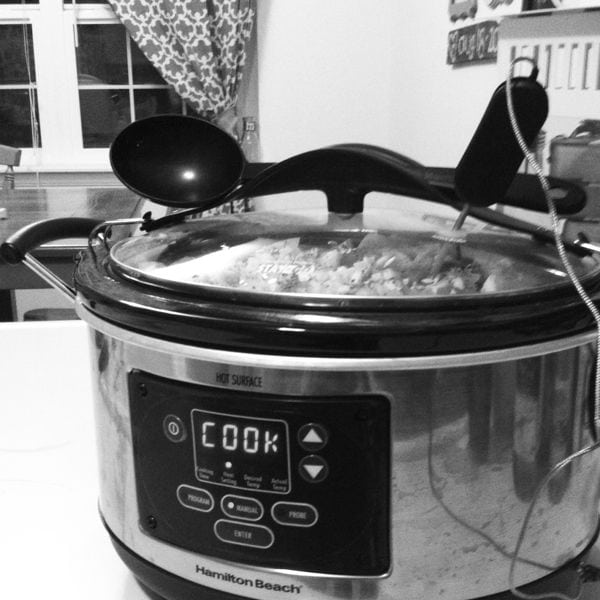 CROCKPOT LUNCHES = one of the greatest inventions. for the last couple weeks on Sunday evenings, i start my next crockpot meal. i figure out what i want to make based on what we have in the house (because that is how i roll) and i throw it all into the crockpot and let it cook all night. when morning comes, i scoop some in my to-go container, grab some snacks (like nuts, fruit, and veggies) and hit the road. it adds no time to my morning routine and i love it. the rest of the crockpot goes in the fridge and we eat it for lunch all week. (for those of you wondering if the same thing gets old every lunch – i guess i wouldn't really know because prior to this dino diet i was eating a package of ramen everyday. this ends up being way more exciting!)
CHICKEN & VEGGIE CROCKPOT GOODNESS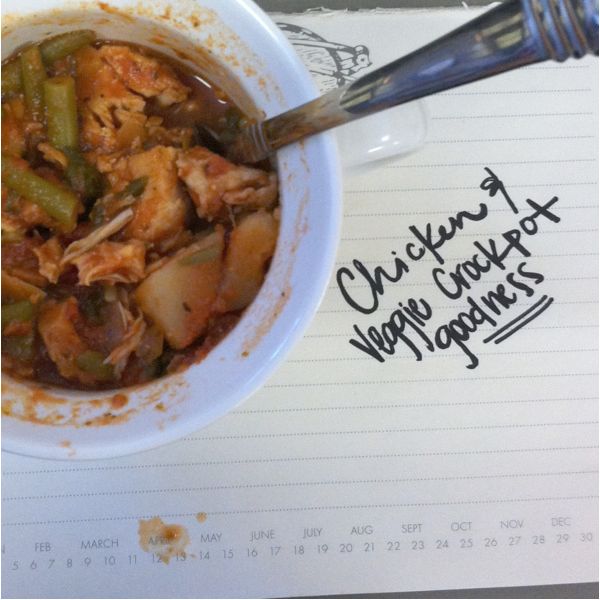 WHAT YOU NEED:
– several handfuls of fresh green beens
– an onion
– a tomato
– 2 small cans of tomato paste*
– 16 oz can of crushed tomatoes*
– 4 or 5 red potatoes depending on size
-3 or 4 cooked chicken breasts
– a couple handfuls of spinach
– 4/5 crushed garlic cloves
– a bell pepper (any color)
-red pepper flakes
– italian seasoning*
– one cup all natural chicken broth*
*make sure to read all canned & prepackaged goods' ingredients to verify that they are paleo/whole30 approved.
TO START:
1. open all cans and pour into the crockpot
2. cut up all veggies & potoatoes and throw them in
3. cut cooked chicken into bite sized pieces and add to mixture.
4. add all the spices on top, pouring the chicken broth over it all.
5. use a spoon and stir it around a bit
6. set to "low" and let cook overnight (8-10 hours). (if you would rather cook for a shorter time just put the crockpot on high but i like letting it slowly cook while i am sleeping!)
7. eat & enjoy!
i love how crockpots are the "throw everything in and don't worry" kind of cooking! and let me tell you, they make the most delicious meals!
HAPPY EATING!