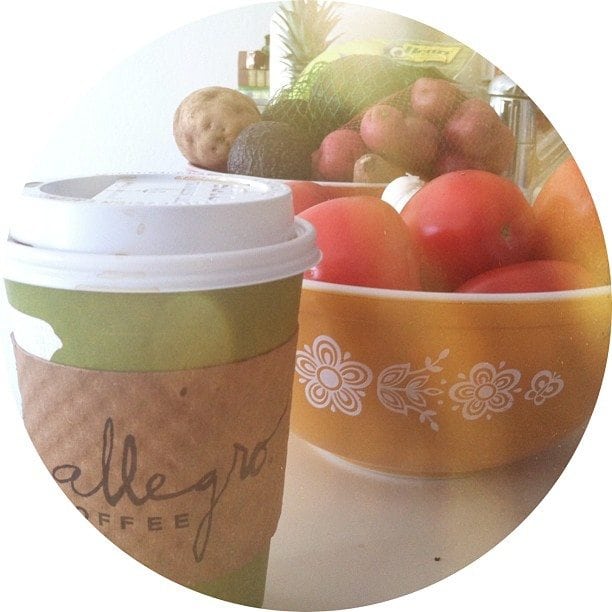 over the weekend something happened that i never thought would happen- the 30 days were up for our whole30 challenge. it came like a thief in the night. it snuck right on in and we barely realized. we found ourselves acting like we were still on our diet – grabbing snacks that we had been eating, ordering our chipotle sans beens, tortilla, and cheese… we of course indulged in a slice of spice cake with cream cheese frosting for my mother's birthday but besides that, we found ourselves sticking to our whole30 habits for the most part.
last month when bruce & i made the commitment to such a restrictive diet for so long we never thought the day after would come. we didn't think we could not eat cheese or ice cream or bread or easter candy. we didn't know we had enough self will. and we didn't know we would like eating paleo so much.
i wanted to spend a little time on a little FAQ post because so many of you and my friends and my coworkers and my family have been asking the same things. that is why people create FAQ pages, right?!
whole30 :: FAQ
1. did you/are you loosing weight?
the answer is yes. it was not the initial reason we went on the cleanse but it was a positive result – am i right? bruce lost 16 lbs and i lost 8 lbs. which bruce thought was pretty perfect because he could still be exactly twice my size. so that is pretty neat.
2. was it hard? i could never not eat ___________(fill in the blank).
yes, it was hard. no you have more self will than you realize and you can go a whole month without your favorite treat. i know you can. here is the break down of our 30 days week style:
week one: fun, new, exciting, and pretty easy
week two: SO HARD we missed our easy meals and our crappy snacks
week three: flew by
week four: we loved what we were eating and would list things that we would be okay never eating
again. we still were excited to bring some food back into our diet we felt really content and healthy.
it was a very funny progression and we honestly surprised ourselves at the end of the cleanse.
3. was it expensive?
one of the things i was most worried about was eating whole30 on our food budget. i shopped at wholefoods, our local grocery store's health section, and bought some bulk items from Sams. i was shocked to find that i was spending the same amount or even less buying "healthy foods." before i always thought we couldn't afford healthy food, but you will be surprised how fast that candy, chips, hot pockets, and soda add up!
we also participate in a great food co-op called
bountiful baskets
. where we pay $15 and pick up a large basket of fruit and veggies every other saturday morning. WE LOVE IT. look for a farmer co-op near you! that helps us save and try new things. it is a fun adventure.
4. what are other benefits from the whole30 that you noticed?
– i loved discovering my cooking skills and was surprised that i could actually have the energy and talent to make delish & healthy meals. you should check some of the recipes i discovered here!
– i discovered the crockpot and enjoy hearty lunches instead of the normal ramen noodles that i had been eating on the daily.
– i never drank coffee after the morning ended and i didn't need it!! (what?!) – the protein was a great energizer
– my skin cleared up. it was brighter and less blemishy
– i found new healthy snacks and favorite treats – like applesauce with cinnamon and fruit mixed in!
5. what were you excited to bring back into your diet?
very excited about grains – not in masses but just in general. granola, oatmeal, bread. sugar and dairy we missed less and could honestly live without if we had to.
6. would you recommend it?
yes! it is fun. it is healthy. and it is so do-able!
7. would you ever do it again?
yes. we would like to do cleanses every now and then just to keep our bodies and digestive systems running well!
8. are you now going back to the way you were previously eating and living?
no we sure the heck are not. we can't. this whole30 thing has made us so aware of what we are actually putting into our bodies. we check labels & we pass on stuff packed with preservatives and ingredients we cannot pronounce. we turn to meat and veggies at meal time. we energize ourselves with protein instead of caffeine, carbs, or sugars. we enjoy the taste of freshly made. we discovered we can cook and prepare meals on our own. we are different and we are so glad that we started this journey toward healthy living.
do you have any other questions that i did not answer?! fire away!