figuring out what to eat for breakfast on the whole30 was slightly harder than we initially imagined. the mister tends to go sans breakfast (which isn't allowed on the whole30) and i opt for a fage greek yogurt or a big bowl of cereal. mostly i only get cereal on the weekends because i rush through my mornings and 9/10 times end up eating my breakfast in the car.
when are normal go-to breakfasts were thrown out the window, we had try new things and make breakfast part of our morning routine. i wanted to share with you a couple of our favorite breakfast recipes: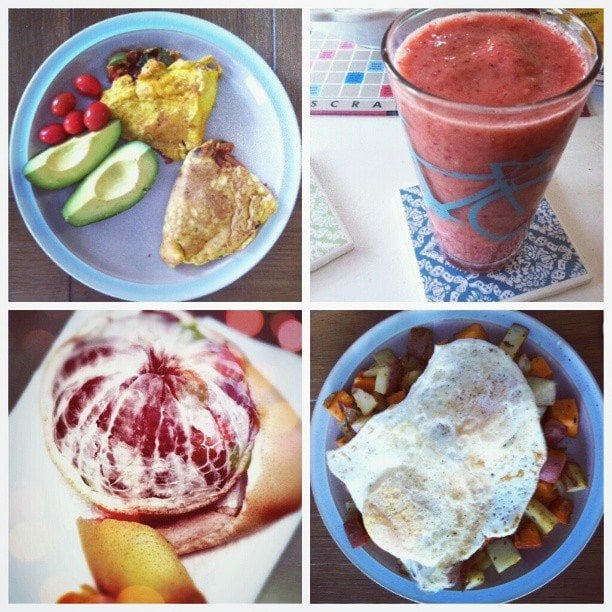 VEGGIE OMELETTES:
this one was a first ever for me! i mean, my dad made me omelettes growing up and i occasionally order one at breakfast places (let's be real, i mostly always picked the french toast or berry pancakes!) but i had never made my own omelette before. when i talked here about how my husband and i ate like high schoolers whose parents were out of town – i meant it. a lot of this cooking thing was new to me and i am surprising myself with the delicious things i can create and the fact that i can actually enjoy the cooking process!
HOW TO –
1. cut up a bell pepper, an onion, 4 -5 garlic cloves, a large tomato and a couple mushrooms and throw them into a pan with some olive oil. let them cook and simmer on medium high until they turn into a little salsa looking thing.
2. move the cooked veggies to a bowl.
3. mix 3 eggs in a bowl and pour into the bottom of a pan on medium
4. watch until you see bubbles and pour veggie salsa on one side of the pan. use your spatula to test the sides to see if the omelette is ready to flip.
5. flip when ready and then flip the whole omelette to make sure it is ready to eat and to prevent burning.
6. add some fresh tomatoes and avocado on the side.
7. YUM.
STRAWBERRY BANANA FRUIT SMOOTHIE:
fruit smoothies are delish and make a great to-go breakfast if all you have time to do is run the blender and then pour into a cup that you can walk out the door with – or it is great for lazy Saturday mornings. versatile!
HOW TO –
1. pour in a cup of 100% orange juice (i always use the simply brand!)
2. add a cup or two of frozen fruit ( i use the bag that has mengo, pinapple, peach,and strawberries)
3. then cut up a banana or two and throw some whole strawberries into the mix.
4. blend
5. sip and enjoy
GRAPEFRUIT:
okay, so i said this yesterday but i am seriously obsessing over grapefruit these days. it may not be the best option but i have been known to enjoy a grapefruit with a bag of pistachios for breakfast. sometimes i scramble up some eggs – but those are not on the mornings i am running late.
HOW TO –
1. peel grapefruit and eat it like an orange. do not add sugar!
2. enjoy
EGGS & POTATONESS:
when i make this i feel like i work at our local breakfast eatery – Bon Tons! it is like we are eating out but we are eating in. crazy.
HOW TO –
1. cut up some red potatoes and some sweet potatoes into chunks.
2. throw them in a pan with olive oil and garlic on medium.
3. let cook until potatoes are crispy on the outside and soft on the inside being sure to stir often.
4. crack two eggs near each other on a hot pan. let cook until the edges start getting bubbles.
5. use a pancake flipper to flip both eggs at the same time. to keep the yokes runny, do not leave long on the heat.
6. place on top of potatoes.
7. dig in and let the yoke cover the potatoes. yum.
feel free to experiment! play around with the fruits you have for your smoothies or try different veggies inside your omelette. one of our favorite things about the whole30 has been making up new recipes and trying new things!


happy eating and healthy living!