most of you already know that the mister and i started the whole30 last week to really start living well and eating better than frat boys (it was beginning to get real bad people!). if you want to read more of our journey click here.
i never thought this blog would be a place that i shared recipes. i am just not a "cook" and felt like i could never compare to the Pioneer Woman! but then i posted about trying new things and not stopping learning here and i was convicted to try to get better at cooking. a lot of you mentioned that i should share some recipes with you all when i talked about our whole30 dino diet – so here you go. one paleo & whole30 approved meal coming right up!
GUACAMOLE BACON BURGERS & CHIPS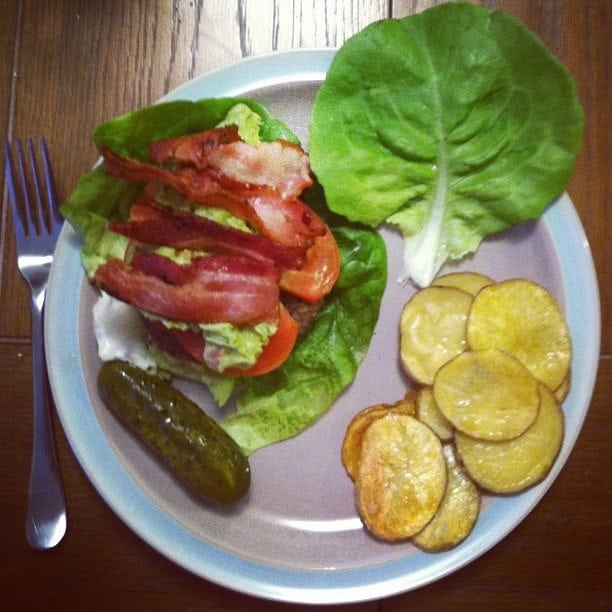 WHAT YOU NEED:
– hamburger patties. make sure that they are only hamburger and are not packed with sneaky things like sugars and preservatives and things you cannot pronounce.
– bacon. this one was a hard one. the only place we could find bacon without sugar on the list was at wholefoods. we rejoiced when we found it!
– butter lettuce (the bigger leaves the better because those will be your buns!)
– tomatoes
– pickles (without preservatives & unpronounceable ingredients)
– red or sweet potatoes (not white)
– olive oil
for the guacamole
– avocados
– onions
– tomatoes
– cilantro
-lemon juice
-garlic
TO START:
1. to make the guacamole, cut open and smash up 3 or four avocados in a bowl. cut up half an onion, half or a whole tomato, a couple cilantro leaves, and 2 or 3 garlic cloves into tiny, edible pieces and match them into the avocados! this really is a taste preference thing. bruce and i put lots of garlic and onion in because we like that but you can do whatever you like! guac isn't a science. add some lemon juice to maintain the color and add a little zest. we also throw the avocado pits into the guac to help it not turn brown.
2. clean & cut your potatoes. slice them into thin slices and preheat the oven to 400 degress.
3. place the slices onto a olive oiled pan. sprinkle a little salt on them and flip them all. you want a little olive oil to be on both sides of the slice. sprinkle salt on top.
4. bake for about 15 – 20 minutes but keep an eye on them. thinner chips cook faster so it all depends on how thin you sliced. i just leave the light on in the oven to watch them.
5. throw the burgers on a grill. sprinkle some flavoring on. we love the Montreal Steak McCormick Grill Mates seasoning because we can have all the ingredients!
6. start cooking up the bacon in a pan.


7. Cut and wash the lettuce. remember to keep the leaves big because they will be your buns.
8. Slice tomatoes & onions to add to your burger.
9. set the table and add extras. mustard, homemade mayo, and pickles are all whole30 & paleo approved.
10. when everything is cooked & ready – put your burger together and enjoy!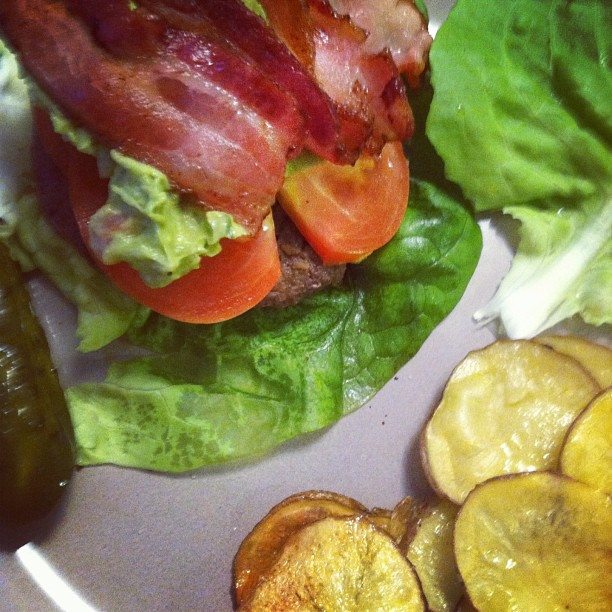 what are some of your favorite paleo / whole30 meals?! i am really starting to love making all these new creations! the husband and i have never eaten so good!
HAPPY EATING!