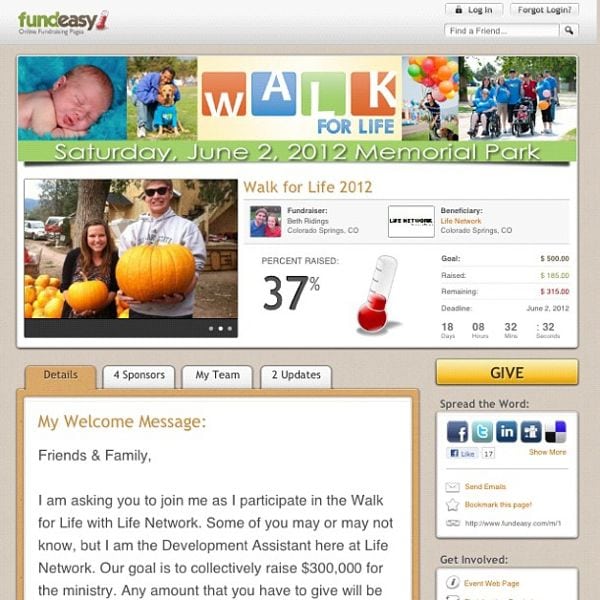 A COUPLE OF THINGS YOU SHOULD KNOW BLOGWORLD
1. i work at life network
2. i am a newbee
3. THIS IS MY DREAM JOB!
4. we are in the middle of our biggest fundraiser of the year!! would you join me?
The goal of the Walk for Life is to raise funds for the ministry of Life Network, educate community members about Life Network and its outreaches and make a strong life-affirming statement to our community.
Life Network depends on the funds raised at the Walk to continue offering free services to the community and ministering to over 14,000 babies, women, men, families and students that God will send our way this year. Through its four outreaches (Colorado Springs Pregnancy Center, LifeSteps, Education for a Lifetime and Bridges of Hope) Life Network offers many free services including:
Pregnancy tests
Pregnancy options counseling
Ultrasounds
Baby clothing and furnishings
Parenting education
Childbirth and infant care classes
Emergency baby supplies
Maternity clothing
Post-abortion recovery groups
– Education on sexual integrity and risk-avoidance
if you have any questions at all please contact me by email or leaving a comment below. you can also check out my website for the walk HERE
thank you friends
for your SUPPORT
for your PRAYERS